Welcome to my coverage of the Skate Canada 2017 men's free skate! Still no wine, but that's because it's only 12:30 in the afternoon. What am I, an alcoholic? I am committed to being deeply unhealthy so far, since I had a lemon-filled donut for breakfast. Hopefully watching these athletic dudes will spur me to get outside and go for a run after this. But first things first. Let's see how the men's competition at Skate Canada wrapped up. If you'd like to follow along, here's the video I watched on YouTube. There is absolutely no commentary – it's just you and the skaters. If you missed the short program post, you can catch up here.
Men's Free Skate
Jorik Hendrickx | Belgium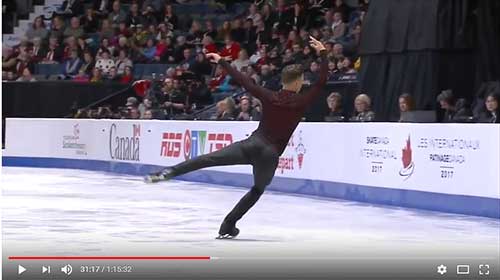 I still love Belgian beers. Nothing has changed in the past 72 hours. Just saying, in case anyone wondered about my beer allegiances.
He's skating to "Concerto de Aranjuez" performed by Il Divo. I can work with this. I both like and am kind of annoyed by Il Divo. A seeming contradition, I know.
Yikes, he stumbled on a solo triple axel. And double yikes, because I stumbled on typing it and ended up with "tirple" axel.
He has good speed in the combo spin. I don't know why this has become a thing with me, but the older I get, the more I like to see the basic skating skills done really well. The quads? Hell, every up-and-coming 17-year-old can do 'em these days – they have to. But what those kids don't have yet is musicality, flow, attention to detail. They'll get there, but right now, I enjoy seeing skaters who've taken the time to develop skills other than quads.
A little slow in the footwork sequence, but the music is also slow right here. When a faster flamenco beat kicked in, his speed improved – he's really pacing things to the music. I get it now.
I feel like HE feels the music, but he's not really connecting with the audience. It's like he's behind glass, and I'm not invited in.
There are some odd music cuts here – we went from Il Divo to flamenco to an orchestral version of Aranjuez, then back to Il Divo. Not really a fan of the Frankenstein music mix in general.
Dude, you were SO CLOSE TO THE BOARDS on that second jump combo.
The guy's doing well with his jumps overall – he's that rare combo of technically proficient with good interpretation and style. Still, he's not on the level of a Chan.
He emotes like crazy, and it's easy to see he's feeling something. I just keep asking myself why I don't feel what I felt when I watched Patrick Chan or Jason Brown. They felt their music, too, but there was more of a connection with me (even though I didn't like Brown's music). What's missing here? Jorik has all the elements, there's just something missing in his audience connection. I love the speed, style, and flow of his skating. Like a vampire, however, I need to be invited in.
Scores
Technical elements: 75.23
Presentation: 80.00
Total: 155.23
He's currently in first place! Wow, see, his presentation score is so much higher than his technical score. He's really elegant, with great line and flow, and the judges can see that. He did have a few wobbles, so that's probably knocking down his technical score. Overall, though, I think this guy is so close to being great. I wonder what he does in exhibitions, if he's able to loosen up and invite the audience in a bit more. Will investigate…
---
Alexander Samarin | Russia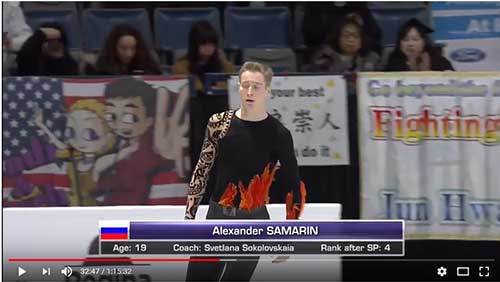 Sorry, buddy, looks like I got your eyes closed in my screenshot above. But oh holy Jesus, what is he wearing? It looks like there's a sheer bit with black overlay tracings on his right arm, and some weird flame overlays on the other arm and his stomach. Maybe with flappy bits? Then there's a skull belt buckle. I'm confused, you guys.
He's skating to "La Naissance de Yaha, The Unforgiven." My confusion has not lifted.
Dang, he was spot-on with that opening quad.
Okay, so far, we've got some piano music that's soft and classical-sounding. The costume is not making sense yet.
His quad toe was also spot-on. Looking good in the tech department. Yep, he just added a triple axel with a great landing.
Okay, now the piano music is growing darker, more dramatic, with an orchestra behind it. Seeming a bit more appropriate for the costume, but the flames and sheer thing still isn't obvious. I feel like there's a secret I'm supposed to know but don't.
Now we have a deep-voiced male vocal – oh shit, you guys, this is a dramatic vocal version of "House of the Rising Sun." What the hell was up with the soft piano in the beginning, then? This is really weird, you guys, but somehow very Russian.
I feel like we're in the midst of a huge trend for slow, dramatic covers of popular songs. I LOVED THE SHIT out of Madison Hubbel and Zachary Donohue's free skate last season, that had a slow, dramatic cover of Whitney Houston's "I Wanna Dance with Somebody," so it can pay huge dividends. But you really have to be careful with it. I'm okay with an Animals cover, but I wish the whole program had been that. The rando classical attack in the beginning doesn't work for me.
Hot damn, he timed that jump combo perfectly with a hard-rock crescendo. It just all exploded at the same time – that was a nice effect.
The choreography is a little weak here, you guys – lots of telegraphing, and cornering without the nicely raised arms I saw from him in the short program. This program feels like a bunch of jumps strung together and that's pretty much it. Those jumps are well done, don't get me wrong. But there's really nothing going on in the meantime. You can do better, Alexander. You're Russian. I know you have more drama in there somewhere.
Not bad in the footwork sequence! He needs to make the rest of his connecting steps more like this – and speed it all up a bit. He looks tired.
A bit slow for that last combination spin – speed it up, dude, your guitars are crescendoing! Yes, I said crescendoing.
Scores
Technical elements: 87.68
Presentation: 78.36
Total: 166.04
This puts him in first place – by sheer virtue of that technical score. He vaulted over Hendrickx by 12 points in the tech score alone! Wow. The problem is that jumps are carrying him – I'm not seeing much else going on in this program, but he's only two points behind Jorik in the presentation score. What's the lesson here? The jumps mean a lot. A whole lot.
---
Keegan Messing | Canada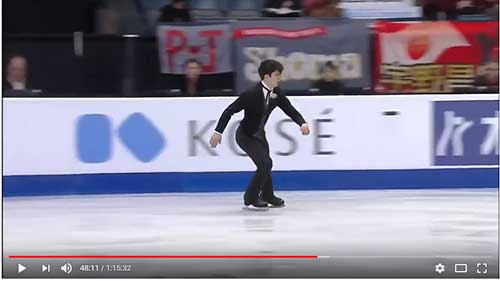 I didn't see this guy in the final group of the short program, so he must have had a fantastic short that earned his place in this final group here. Let's have a look!
He's skating to a Charlie Chaplin medley. Sounds promising!
You can really see the character from the get-go, with a smile and a yawn as the program opens. Yep, that's Chaplin. Reminds me of Petr Barna's bronze-winning long program (FREE SKATE, goddamn it, FREE SKATE) from Albertville in 1992.
Shit, he fell on his opening jump – that's hard. Oh, shit, he totally tumbled on that second jump, too – wow, that was a crazy fall. On the plus side, the falls are so dramatic because he has so much speed going into them.
He nailed that combo! Phew. I'm relieved for him.
The Chaplin character is charming. He's really carrying it well throughout. Good for him. Sometimes skaters start building a character and abandon it once they think the audience "gets" it. You have to commit without being annoying, and so far he's doing a great job of that.
Whoa, another weird fall – kind of. He ground to a stop, and got his legs tangled up. Not an ice-plant, but a little distracting to the program nonetheless. Whoa, and then he went on to nail a triple/triple combo right after that. I wonder if it's technique or excitement or nerves that's tripping him up. Oh, crap, he popped what was surely supposed to be a triple axel.
The frustration is starting to show on his face. I feel for the guy! The audience is clapping with the music to give him some inspiration. Gotta love figure skating audiences!
The clapping worked! The smile is back on his face.
Nice Russian split! Have I mentioned that I love Russian splits?
He had nice speed in that last combo spin – finished with flair!
What a rough skate for this guy. But that's part of what I admire about figure skaters, and athletes who perform in general. Their best and worst moments happen in front of strangers, and you have to recover quickly, and not let it get to you. The whole world is watching, so you can't lose your shit.
Scores
Technical elements: 59.16
Presentation: 78.42
Deduction: -2.00
Total: 135.58
Ouch – this bumped him down to fifth place. That's fair, though. His jumps were all over the place. I like the fact that he went for a theme and played it through. He's charming on the ice, and just needs some time to settle into those jumps. He's got a great smile and charisma, so he could be a real audience favorite with some consistency.
---
Shoma Uno | Japan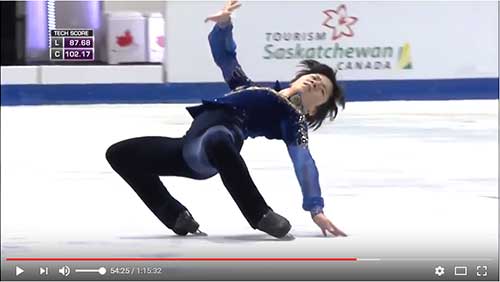 He's skating to Turandot – my favorite opera. Be still my heart! As it opens, this sounds like the instrumental Vanessa Mae violin version.
And we're off to the races with a fantastic opening quad!
A bit wobbly on the follow-up, a triple loop.
Now we've got a spread-eagle into triple axel – that worked really well.
And now we've got two combination spins in a row. I feel like a bunch of these elements were just stacked together to get them out of the way. I'm not a fan of two combo spins together. Like, we get it. You can spin. Is there a good reason for this? Like, if you get dizzy, is it easier as a skater to get a couple out of the way at once?
He's got some nice connecting footwork after those two spins.
Okay, now we're out of the violin version, and into a sung version of Turandot's most famous aria, "Nessun dorma." It's not Pavarotti – Domingo, maybe? I can't tell. The vocal portion is a weird cut – we get the first two lines, which are just the song title "Nessun dorma / nessun dorma" – then they cut straight to the chorus – not a fan of that. It's a pretty brief aria as it is, with verses that are only a couple lines. What was the benefit of having the Vanessa Mae second in the beginning, and skipping the vocal verse?
Dang, he was way tilted on that quad, but he saved it!
Choreographically, this isn't really doing it for me. It's way too much cornering and not enough actual stepping.
Whoa, he fell out of that jump, too. But then we get a quad/double combo – nicely done.
You guys, he feels disconnected from the music. Did he choose it? Or is he just kinda off tonight?
Wow, that was a fantastic triple axel jump combo there, followed by another combo. He's finally pulling it together. Now we get a smile, and his speed is up! Maybe he did pick this music, but he was nervous in the beginning? Suddenly, the lightbulb switched on.
Oh holy hell, that spread-eagle where he bends over backward – that is FAN-FUCKING-TASTIC.
Good speed in that final combination spin.
…and he finished a teensy bit off the music.
He only got his shit together in last third of the program, it seemed. I feel like a lot of these guys get lost, choreographically, in the longer program. They seem really crisp and on in the short, but you give them an extra minute and a half, and they don't seem to know what to do other than do lots of crossovers and jumps. I really want to see someone nail this from beginning to end.
Score
Technical elements: 106.32
Presentation: 91.16
Total: 197.48
Duh – even I can tell right away that's a first-place score. That technical score is almost 20 points over Samarin! He's 10+ points over Hendrickx, the only other stylistically gifted skater we've seen so far in this group. The judges love this kid. When he's on, he's on – but this program only seemed about half on. Holy crap, though, think about what this means score-wise. He's capable of posting stratospheric marks if these went up by 10-20%! Olympic podium, watch out.
---
Patrick Chan | Canada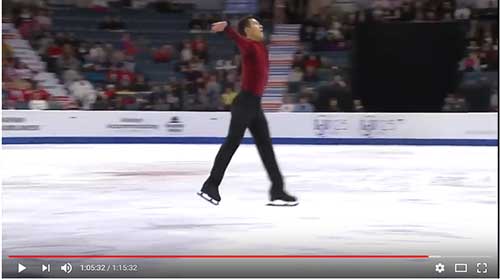 He's skating to "Hallelujah" performed by Jeff Buckley, you guys. Oh holy Jesus, I can see this working really well for him. I love that both his programs are in the folk/rock genre. It suits him.
Every movement is so gentle, so on the music. It's like he absorbed this song in his bones, like calcium.
Shit, he fell on the first quad.
And we've got a hand down on the next triple. Then he doubled the triple axel in a combination. When things don't start off the way you planned, it is SO HARD to get them on track again.
That tiny jump on the lyric "major lift" – so simple, but so choreographically right. A little obvious, maybe – but it might have seemed like a missed opportunity not to do it, too.
A beautiful triple after a beautiful series of steps and choreographic elements. He had a time to rest and get his feet under him.
Another match of lyrics to movement – when Buckley sang "floor," he pointed at the ice. It was blink-and-you'll-miss-it, but it was there.
Shit, he doubled that triple axel. Doubled the next triple, too. Something's not right. Is he hurt? Or just mentally not feeling it?
The audience is clapping for him. They know he needs a little help.
Something feels off. Maybe the missed jumps created emotional hesitancy, too. I feel like he's not skating this one as confidently as he did the short program.
Still, good lord, his positions are fantastic, always so stretched through the arms and the fingers. Every spin, every extension, every everything.
He's got a brave smile at the end, but he knows that wasn't what he was looking for, not on home ice.
Let's eavesdrop on the conversation with his coach in the kiss and cry. Ha ha, someone just threw a stuffed animal at him and it hit him in the head. He pantomimed falling over dead – so cute! Okay, he told his coach: "I've never done that, so that's good – at least I've done it. Just tired. Yesterday, I had so much energy, and then today…nothing." So that's it – he's tired, drained, and it compounded from jump to jump and took its toll in the overall performance, too. Phew! I was so worried he was going to say something was injured.
Score
Technical elements: 61.41
Presentation: 90.86
Deduction: -1.00
Total: 151.27
Yee-ouch, he placed sixth in this free skate, but is third overall. I knew this was going to be rough, but now he's off the podium unless Jason Brown totally flops. I hope this doesn't hurt him too bad mentally. He seems cerebral, like the mental game is harder for him than the actual skating. I worry about skaters like that. Hell, I'm that way myself. It's hard to be your own worst enemy, when you just can't get out of your own way enough to let your talent shine. Patrick, I love you. I think we'd have a lot to talk about. Call me.
---
Jason Brown | USA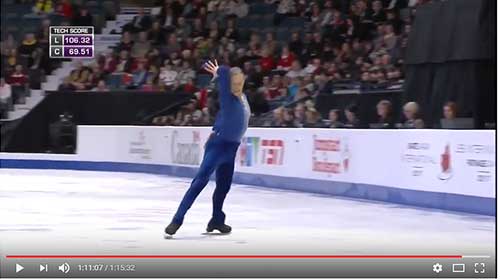 Erm, I'm not a huge fan of his look for this program so far. He's wearing a blue bedazzled blouse, blue pants, and a super-slicked-back man-bun. I don't judge based on outfit or looks, but the ensemble does need to reinforce the mood of a program. His music is "Inner Love" by Maxime Rodriguez, so let's see what he has in store for us.
He has line and flexibility that go on for days. We can see it from his first steps. I just love that.
Ouch, he took a fall on the quadruple toe.
A little iffy on the triple axel landing, but he saved it!
This combination spin is great – good speed, amazing extension.
Damn, you guys – he's the only man I can think of who makes a back spiral not a joke.
So far, this program is very soft. I'm liking it better for him than the Hamilton number. I wish it had a bit more pep, though. He does pep so well.
Excellent control and stretch in, literally, every movement. I hope there's a way to reflect that in the score. It seems easy to overlook in the numbers game, but it SO sets him apart.
Yeah, this music is a tad…boring.
There's a second triple axel in combination with a triple toe – beautiful.
Okay, the music is finally building – I like it better now. And he just nailed a triple lutz combo!
Holy Jesus, look at that spiral sequence – Michelle Kwan did hers the same way! He's also throwing in a lot of the small, old-fashioned show-skater moves, like an Ena Bauer here, a stag leap there. These little things provide so much visual interest, and when you execute them as well as he does, it pays huge dividends.
Damn it, he popped that jump – a loop, it looked like. He might have been too close to the boards.
And another triple lutz combo – great!
Of course, it's not a Jason Brown program without Russian splits!
Final combination spin – such good positions, fantastic stretch, and an illusion! That shit is money.
Scores
Technical elements: 80.77
Presentation: 90.66
Deduction: -1.00
Total: 170.43
Jason Brown just won a silver medal! Woo-hoo! Congrats, Jason. Of course, Shoma Uno won the gold, and Alexander Samarin won the bronze. Brown's presentation score is only two-tenths behind Chan's. They have such different styles, but both so emotional and visually pleasing. I love that we have such variety like that, and that the judges reward both styles. I really wish he had that quad. Maybe by the Olympics? Or nationals? I want him to be a force to be reckoned with, but we also have Nathan Chen, a kid who's got the style and the jumps. We'll have to see how this rivalry shapes up as we get closer to the end of the season.
---
That's the end of the men's competition! Do you agree with these results?
In case you missed it, here's the rest of my 2017 skating posts: