"…many laugh-out-loud moments." – Amazon reviewer
---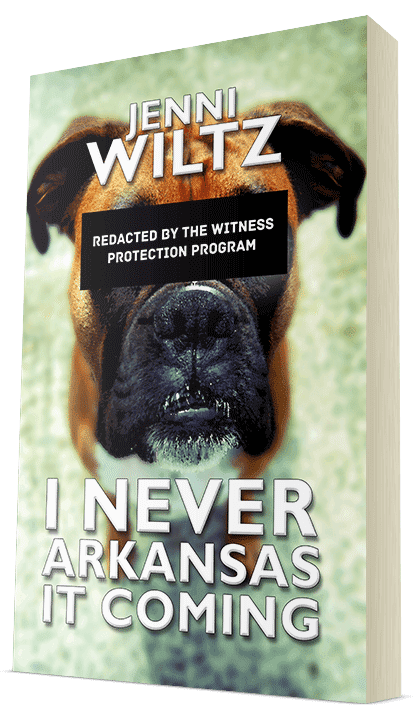 Brett Sargent isn't adapting to life in Arkansas very well. A native New Yorker, she's whisked away to Little Falls in the Witness Protection Program after testifying against her former high school lab partner, now a Mafia up-and-comer. Her only friend is a happy-go-lucky guard dog named Dude.
While moonlighting as a detective to pay the rent, Brett is hired by Elaine Scrubbs and her smokin' hot redneck brother, Jake. They ask her to find Elaine's missing husband. But when Hank Scrubbs turns up dead with a Mafia calling card stabbed to his chest, Brett knows she's next on their hit list.
To stay alive, Brett tangles with a liar, a truck driver, a flesh-eating Mafia lawyer, a one-eyed repairman, a shotgun-wielding racist, a vindictive Kroger clerk, a Bible thumper, and a shoplifter named Rick James who just might be the best friend she's been waiting for.
Short on time? Take Brett & Dude with you! Download the first 3 chapters in PDF form to read anytime you want.
"…interesting, catches you off guard right away…you will never suspect what is around the next corner." – Amazon reviewer
---
A new life…
It wasn't as hard as I thought it might be to uproot my whole existence and become someone else.  As a general rule, I don't like people and I want them to stay away from me.  The rare times I'm desirous of human company usually pass like kidney stones: painfully but quickly.  Suffice to say, no one had to sign my Memorandum of Understanding but me.
Author's Note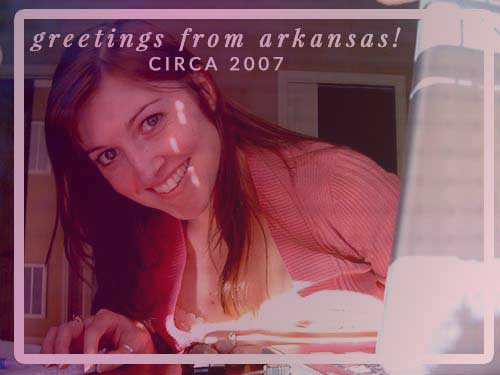 I Never Arkansas It Coming is the first book I published, so it holds a place of honor on my bookshelf. It was inspired by two things – Janet Evanovich's Stephanie Plum series, and the three years I lived in Arkansas. I wanted to try my hand at a comic mystery with a female PI as the lead character. But just like Stephanie, I wanted my character to be a bit of a disaster – not calm, collected, or composed at all.
I gave Brett a sidekick, too. Her beloved boxer, Dude, who you'll see pictured below. Isn't he cute? Who could resist that face? Not me, and not Brett.
If you're familiar with Little Rock, you may recognize some of the place names. I've tweaked them all just a little. Little Rock is Little Falls, the Electric Cowboy is the Atomic Vaquero, and so on.
Although I eventually moved back to California, I'll never forget my years in Arkansas. I spent many happy Saturdays biking along the Arkansas River. The bike trails there are awesome. So is the food! Thanks to the Whole Hog, I will never not crave barbecued pork nachos.
I hope you enjoy meeting Brett and Dude reading about the funny, crazy adventures they have together.

A new job…
I wasn't supposed to come to a dead end on the first day of an investigation. There had to be something I was missing, a common denominator. Crap, I thought. I suck at math.
Meet Brett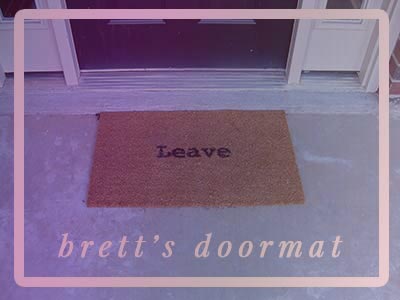 ---
A sense of responsibility settled uncomfortably on my shoulders.  A human life could be at stake, and I had no idea what I was doing.  I started wondering whether it was too late to change my career.  Right about now, something like "donut taster" sounded pretty good.  That was the level of responsibility I was comfortable with.
Meet Dude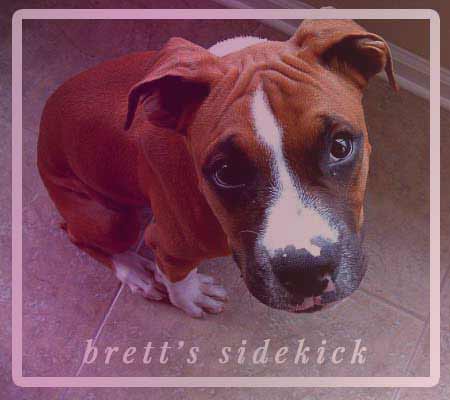 ---
Despite the assurance of the breeder that he'd be a good guard dog, Dude loves company and would let Charles Manson inside without a yip if he had any comestibles handy at all.  By the time I figured out he was a crap guard dog, we were already attached to each other.  There was nothing I could do.  I'm not completely heartless.
"…fun, likeable crazy character…unpredictable and gutsy…loved the devotion to her dog." – Amazon reviewer
---
A new threat…
Keep it together, I commanded. You have no proof they know who you are or that Hank was involved with Jimmy. You're so vain. You probably think this murder is about you.
The good people of Little Falls, Arkansas won't know what hit 'em.