If you've ever wanted to translate a foreign language video on YouTube, this is the post for you. Boy, if I had a dime for every time I found a documentary on a royal figure that's in Russian, German, or some other language I don't speak…I'd have enough money to buy a second monitor, that's for sure.
The technology isn't perfect and it's not available for all videos (yet), but it's nice to have the option. It's light years from what we were able to do as armchair researchers even a few years ago. And it's only going to get better as AI and translation become more of a global priority.
If a YouTube video has closed-captioning available (not all do), you can turn it on and have YouTube translate those captions for you. You can also have YouTube generate a transcript, which you can then copy and save. Even if you're not translating, this is a great way to save a helpful documentary's transcript as a resource you can refer back to offline.
---
How to Turn on Captions in a YouTube Video
Step 1 of 3
Make sure the video you want has closed captioning available. Not all of them do. Look for the CC icon to the left of the settings (gear) icon. I'm using a documentary on Grand Duchess Olga Alexandrovna as my sample.
CLOSED CAPTIONING AVAILABLE: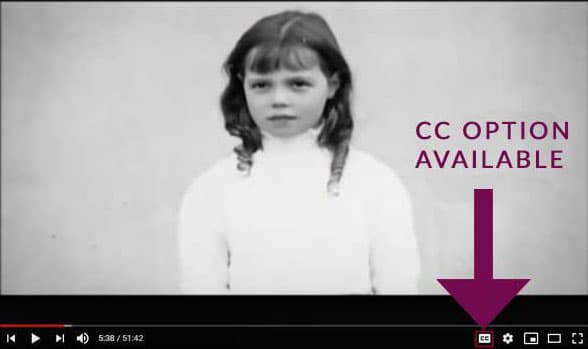 CLOSED CAPTIONING NOT AVAILABLE: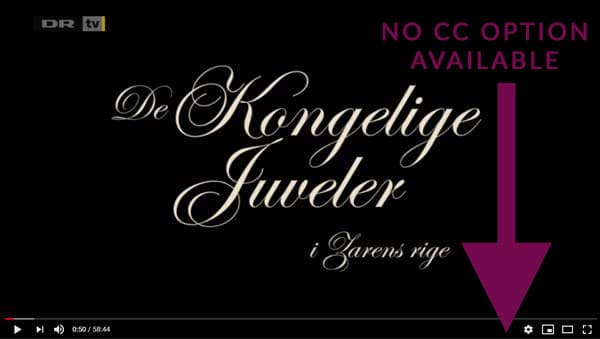 Step 2 of 3
Click the CC icon. An on-screen message will tell you captions have been activated in the video's spoken language and refer you to the settings icon to make changes.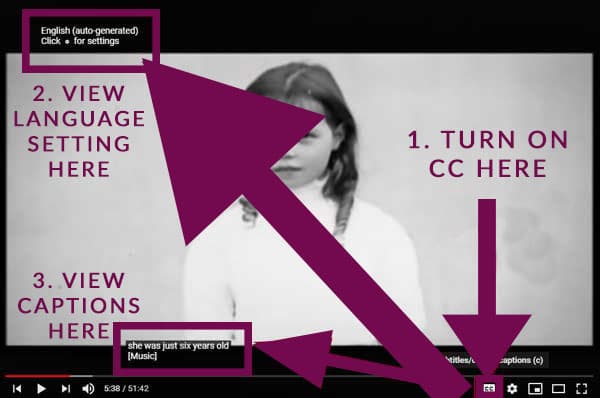 Step 3 of 3
Don't like the placement, color, font, or size of the captions? You can change all that and more. Just click the settings (gear) icon, select Subtitles/CC, then select Options on the top left of the menu.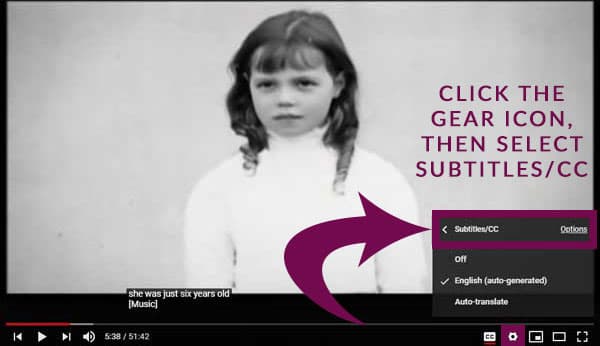 Fiddle with the options until you have text that's to your liking, then click out of the menu to close it.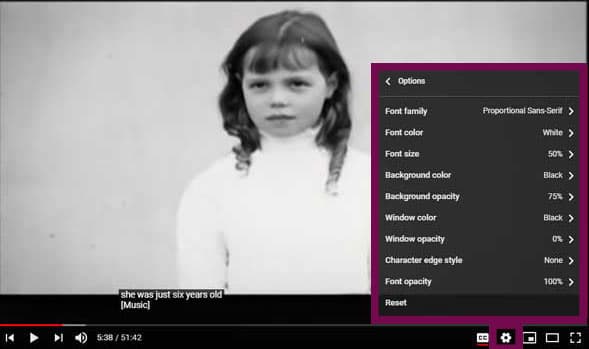 If you want to change the placement of the captions, just drag the text box to your preferred location. You can make the original tiny captions a hell of a lot easier to read. Nifty!
---
How to Translate Captions in a YouTube Video
But what if the video you want to watch is in a language you don't speak, like this one? It's a profile of Christoph Köchert, of the jewelry house of the same name. Check out the German subtitles…which would be awesome if I spoke German.
Step 1 of 1
Click the settings (gear) icon, select Subtitles/CC, then select Auto Translate. You'll get a long list of languages you can translate into – I picked English, natch.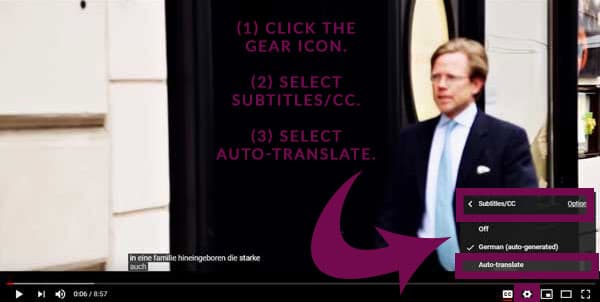 Now, the subtitles have automagically been translated into English for me. It's not perfect, of course…don't expect that and you won't be disappointed. The whole point is getting a rough translation so you can follow along.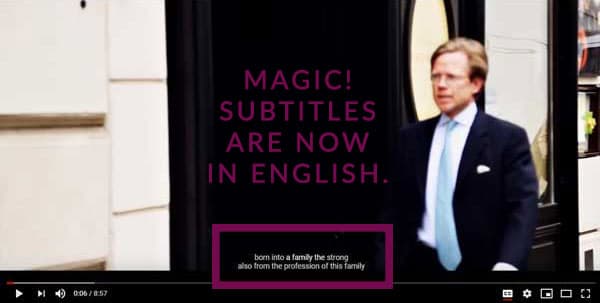 ---
How to Generate, Translate, and Save a Transcript of a YouTube Video
But what if you want to save those subtitles for future reference, the same way you would a book or an article? It's a two-step process.
Step 1 of 3
Click the three-dot menu on the bottom right of the video (next the thumbs up/share options). Select Open transcript.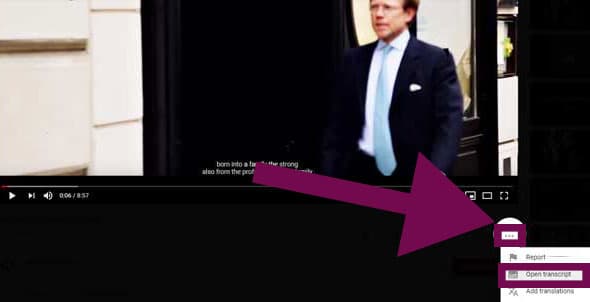 Step 2 of 3
Translate the transcript. Frustratingly, YouTube can't give you a translated version, even though that's what you saw when you watched the video. But there are two ways to get around it, depending on how much of the transcript you want to save.
Method 1: I Only Need Bits & Pieces. Click the line(s) you need in the transcript. You'll be taken to that exact section of the video, where the translation appears in the subtitle box. Retype it (you can't copy that text, unfortunately).

Method 2: I Need the Whole Enchilada. Highlight the entire transcript and right-click. If you have the Google Translate Chrome Extension, select "Translate" from your options and a translation will pop up in a new browser window. If you don't have the extension, just open a new browser tab, go to Google Translate, and paste in the lines you copied. If your transcript is really long (like for an hour-long show), do this in batches so you don't overwhelm Google Translate. It has a 5,000-character limit.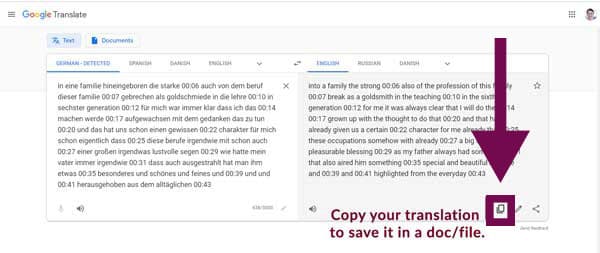 Step 3 of 3
Paste the English version into a document to keep for your research. Make sure you note the title of the documentary, and the URL so you can come back to it later if you need to.
That's how you can translate a foreign language video on YouTube!
Easy peasy, right? Now if only it worked on every video…but that's a problem for another day. Unless you already know how to solve this? If so, tell me in the comments!
---
Coming Up Next
I'll dig a little deeper into online sources, with government and archival websites. Stay tuned!
You might also like: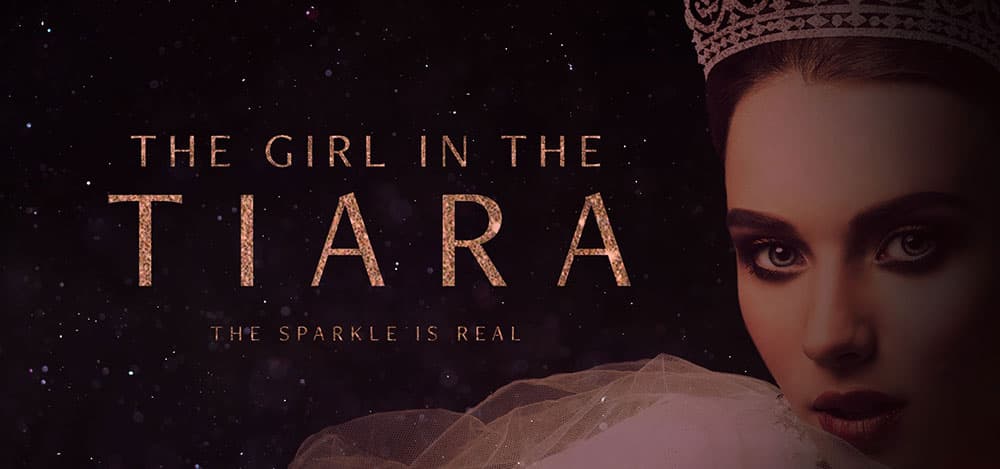 Love Royalty and Tiaras?
You might like my other site, The Girl in the Tiara. I created it to write about amazing royal women and their tiaras. It's like Drunk History meets The Crown.
More Scintillating Posts