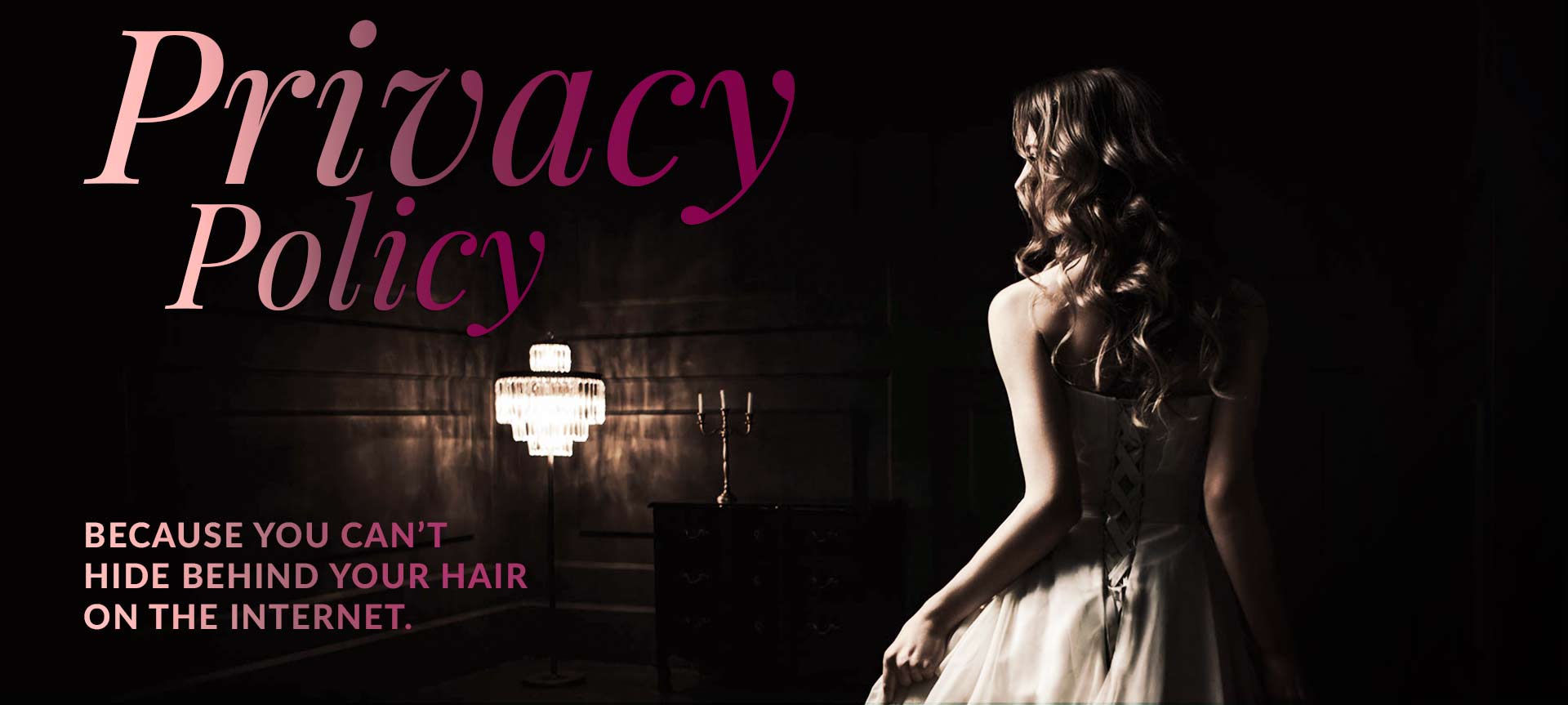 Last updated: October 21, 2019
Purpose
Privacy is awesome, and not just when you're taking a shower.
As the owner of this website, I make every effort to protect the privacy of my visitors. This page explains the obligations & requirements of the user (that's you), the website (https://jenniwiltz.com), and the website owner (that's me) so we can keep as much of our sanity as possible.
This page also explains the way my website processes, stores, and protects user data and information. For the purposes of the GDPR, I am the Data Controller for this website. I am not crazy about this job title, so if you need to contact me about this policy, I would love it if you'd call me something like "Data Wrangler" or "Data Rodeo Queen."
On with the show.
Information Collected through This Site
Let's start with the basics, shall we? I only collect personal data when you choose to interact with my website. As of this writing, that includes:
Signing up for my mailing list. I only require your email address for this, not a first or last name. (NOTE: I closed my mailing list in fall of 2019.)
Leaving a comment on a blog post. Any personal information submitted with your comment is voluntary. If you like, you can leave a name, email address, and website URL with your comment. If you don't want to be identified, you can submit made-up information.
Using the contact form to send me an email. Any personal information submitted through this form is voluntary. The form requires an email address and a name, but if you don't want a reply from me, you could enter a false name and email address and I'd still get your message. Every effort has been made to ensure the contact form is safe and secure, but please be aware that any use of that form is at your own risk. You know what else is done at your own risk? Telling me you had eclairs but ate them all and left none for me. I will only use any information you give me to help answer any questions you may have submitted. Your details will never be shared with anyone or passed on to any third parties. That's not how I roll. Unless you submit next week's winning lotto numbers, in which case I will promptly buy a ticket with those numbers. Just saying. If you have winning numbers, you should use them for yourself.
I also collect anonymous, non-personal data when you visit my website. This happens through the use of cookies, which apparently no one discusses in their privacy policy anymore. I don't know why we all have to force you to click to an entirely separate page to read about cookies, but apparently the GDPR requires this, so there you have it. Sorry for the inconvenience. If I think about it, I'll try and find a cookie recipe to share there to make it less of a wasted click.
What Do You Do with This Information?
I'm so glad you asked. Nothing.
Just kidding.
I only use your personal data when and how the law allows me to. Specifically, I use it to respond to comments and questions delivered through my contact form, or if you signed up for my mailing list, I will email you with updates and book news. I also glance at Google Analytics from time to time to help me make decisions about improving the site.
I do not share this information. I do not use the Facebook pixel or Google AdWords or any advertising at all because REASONS. No such third-party agency has access to any information you provide to me through this site.
Security & Retention
This sounds like the name of a buddy cop show, but it's not.
I have implemented security measures to safeguard any personal data I collect. I converted this site to HTTPS so any information you provide via the contact form is now transmitted securely to me. I maintain electronic and procedural safeguards that comply with applicable laws, including the GDPR, to protect your data from accidental loss as well as unauthorized access, use, and disclosure. That being said, no one can 100% ensure or warrant the security of any information transmitted online. I will take all reasonable steps to prevent this, but please be aware there are always risks.
For example, the contact form on my site DOES NOT store the information entered into my database. As soon as you submit that form, the entered information is only contained in the body of that email.
I only store your personal data as long a necessary to use it for the stated purposes.
If you subscribed to my mailing list, you remain on the list until you unsubscribe…or you insult my name, which someone actually did. I promptly deleted them from my list. I dislike my name intensely, but me insulting my name and a reader insulting my name are very different things.
I set Google Analytics to anonymize all data (this is explained in more detail on the Cookie Policy). I keep this non-personally-identifying data for 24 months.
If you live in the European Union and choose to provide any personal info, it will be processed outside the European Economic Area (such as in the United States, where I live), and this may not provide the same level of data protection as in your jurisdiction.
Your Rights
You have legal rights under applicable law regarding your personal data. You may do any of the following at any time by emailing me via the contact form on this site:
ask what personal data I hold about you (if any), including why I am holding it and who it could be disclosed to;
ask me to update your personal data;
ask me to delete your personal data; and
withdraw any consent you have given me regarding the processing of your personal data.
More Detail about My Mailing List
NOTE: I closed my mailing list in fall of 2019, but I'm keeping this info on my page for people who signed up previously and happen to consult this page.
I had an email newsletter that I used to tell subscribers about new releases, additions to this website, and sometimes old jokes that I remember from middle school. As of May 2018, the last subscriber email I sent out was over a year ago. All email subscriptions were processed through MailChimp. I deleted that account in May of 2021. But as of the last email I sent through them, they were fully compliant with the latest GDPR requirements.
All subscriptions and communications regarding subscription details comply with the CAN-SPAM Act. Every email had an unsubscribe link at the bottom. No personal details were shared or passed on to third parties. Period. My subscription service provider was MailChimp. Click here to read their privacy policy and terms of use.
More Information about Links on This Site
Sometimes I link to other websites to show you where I found interesting stuff. Although I try my best to include only safe and relevant external links, I can't control these sites' privacy policies or content. It's possible that a website I identified as safe and relevant when I created the link no longer meets that criteria. This website and its owners (that'd be me) cannot be held liable for any damages or implications caused by visiting any external links mentioned.
More Information about Referral and Affiliate Links
This website may contain referral and/or affiliate links. The purpose of a referral/affiliate link is to reward the person who posted the link (usually monetarily) if the link clicker purchases a product at the destination URL. A common affiliate program is Amazon.com, which pays website owners like me a small commission for any items you purchase on Amazon when you click through from my site. I am a participant in the Amazon Services LLC Associates Program, an affiliate advertising program designed to provide a means for sites to earn advertising fees by advertising and linking to Amazon.com. As an Amazon Associate, I earn from qualifying purchases.
If I post a referral/affiliate link, I will always specify this is the case, usually (a) immediately after the link via a parenthetical citation, and (b) at the bottom of the post containing the link, along with my other citations. Click these links at your discretion. I have no employment history or affiliation with Amazon or other affiliate program provider. I do not receive any identifying information about you. Honestly, I've never made a dime from affiliate programs, so I don't know what happens when they work. Amazon's program documentation tells me that I will only see a report of items purchased by people who clicked through from my site, and a total amount I will be paid as commission. I won't know who purchased the item or have any identifying information about them. If you click an affiliate link, the price of any items you purchase at the destination site does not change. The destination site will simply reward me with a small percentage of their profit based on your total purchase amount.
More Information about Social Media
I include social media sharing buttons on this website to help users (that's you) share my content directly from this site to selected social media platforms. My sharing buttons are NOT third-party plugin buttons, which is one more step I've made to keep your data out of the hands of unnecessary third parties. Although I would looooove for you to share my work, please use these social sharing buttons at your own risk. Be aware that the social network may track and save your request to share a web page through your account with that that social media platform. Use social media wisely and abide by all terms and conditions of use posted by the networks you wish to participate in.
EDIT: I deleted my Facebook tracking pixel as of 5/10/2018. Why? Because I never ran a campaign that used it. I do not currently run any Facebook ads at all, so I'd rather not inflict this pixel on you if I'm not going to use it. In this case, less is definitely more.
I'm leaving up the part of the policy below that dealt with the pixel in case you visited my site prior to 5/10/2018.
FOR REFERENCE ONLY, AS PIXEL IS NO LONGER USED: My site also uses Facebook's tracking pixel, which can be used to show you my ads within Facebook or Instagram. NOTE: I have never run a pixel-based ad campaign, but I might someday, so I want you to know that pixel is in place. The idea behind the pixel is that it helps me show ads to people who have visited my site and might therefore be interested in my books. I am not able to see individual information about you. I have no affiliation with Facebook. I am merely a cog in the wheel, a regular old site user and advertising customer. If you want to opt out, you can adjust your Facebook settings to tell Facebook not to use information based on your browsing activity outside of Facebook. Click here to see their help post on the topic.
---
I make every effort to protect the privacy of visitors to my site. However, in the vulgar vernacular, shit happens. In all your interactions with my site, and elsewhere on the web, please be aware that transmitting any sensitive or confidential information should be done with full knowledge that no electronic communications are entirely secure from interception.
---
Have a question or comment about this privacy policy? I'm kind of surprised you're still reading, actually. Mad props for guarding your online privacy so scrupulously!
You can send any questions or comments about this policy to me via the contact form on this site.
Jenni Wiltz