Croatoa
a short story of the lost colony of roanoke
"delightfully creepy" – Amazon reviewer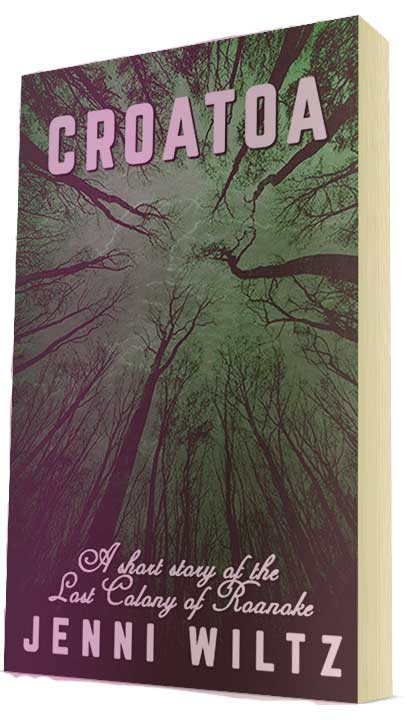 In 1587, a group of English settlers sailed for Roanoke Colony. Among them was expectant mother Eleanor Dare, who gave birth to a daughter – the first English baby born in the New World. But the fledgling colony couldn't survive for long without help. The English garrison they'd expected to meet had vanished – or been killed. The settlers found only a single skeleton left behind.
Faced with the prospect of disease, starvation, and attack by Native Americans, Eleanor's father sailed for England to gather men and supplies. But when he returned in 1590, the entire colony had vanished without a trace.
On a fence post nearby, he found a single word carved into the wood: CROATOAN.
Many believed the settlers were murdered by the Croatoan tribe. Or that they abandoned the colony to seek shelter on the mainland, away from Roanoke Island.
But what if something more sinister happened? Something the settlers were powerless to fight? Something that revealed an ancient evil they had never expected and had no hope of defeating…
*Includes a timeline of the Roanoke Colony and a historical note about Manteo, the Croatan tribesman who lived with the colonists.
You can buy this story at Amazon below.
Amazon
A colony in danger…
I walked through the forest quickly, emerging near the shore and its estuaries. The verdigris sea tossed and rolled its way to England, where my father had gone to beg for the means to support us. When he left, there had been 115 of us. That is what he would tell everyone in England.
Author's Note
I wrote this story in December of 2010, as the final story submitted for a creative writing class in grad school. I'd been watching a lot of Supernatural, and really wanted to write something that took a historic event and added a layer of supernatural creepiness to it. I wish I could remember how I picked Roanoke as my subject – I think I remembered something vaguely mysterious about the settlers' disappearance, but that's all I knew.
The previous story I'd written for class was also historical fiction, about Louis XIV's sister-in-law, Henriette of England. I wasn't sure it was a good idea to turn in another straight historical fiction piece, which is why adding the supernatural element appealed to me.
Also, let's face it – grad school creative writing is all about traditional literary work, and that really wasn't me.
Without a historical context and a sense of things being out of my control, I'm not happy.
With this story, I wanted to make myself happy, even if it came at the expense of my grade.
How I Wrote It
I did a little bit of reading on the subject before I started to write. It was near finals during my first semester of grad school, so I didn't have time to do much. We're talking Wikipedia and a few blog posts. Then I was off to the races.
I knew Eleanor Dare would be my heroine, but that's it. Based on the quick-and-dirty research I did, I knew Manteo would play a role.
Manteo was a Native American tribesman who had been to England twice and was deeply involved in the Roanoke settlement.
Because Eleanor had just had a baby (Virgina Dare), I knew her husband, Annanias, had to play a role, too. Any time you have a woman and two men, the idea of a love triangle is hard to resist. Suffice to say, I didn't resist.
The story didn't take very long to write. I took periodic breaks to check out pictures of Roanoke Island and the surrounding area, to try and get the landscape right. Also, the source material said the settlers' main water source was a cistern, so I had to figure out what that was, where it was, and what it would look like.
I won't include any spoilers here. I want you to have a good time reading the story.
Enjoy!

A woman in peril…
"We must survive," Annanias said. "Your father will bring help. He will not let us perish." But it was impossible. We were a woman, an infant, a savage, and five hungry men. We were doomed and he was the only one who failed to see it.
Enjoy historical horror stories?
You might also enjoy A Vampire in Versailles. It's like Dangerous Liaisons, but with a vampire, blood, murder, revolution, and a gnostic curse. Yeah, that's right. I said it. A gnostic curse.
Check It Out