The Astor tiara belonged to Nancy Langhorne Astor, a Southern girl who became the first woman to serve as an MP in the British House of Commons. The tiara, made by Cartier, holds the famous 55.23-carat Sancy diamond in its center. In 1906, the tiara was valued at $75,000 – without the Sancy. Go ahead and gawk. I'll just wait here.
How Did Nancy Get the Sancy?
Her father-in-law bought it for her. Holy shit, you're thinking, all I ever got from my father-in-law was a handshake. But Nancy had a roundabout way to tiara-hood. She was the 8th of 11 kids born to a Virginia family that fell on hard times after the Civil War. Her father later struck it rich in the railroad business. Her sister, Irene, married Charles Dana Gibson – and became the model for the Gibson Girl.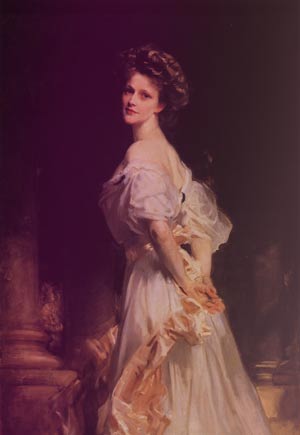 Nancy herself wasn't quite as lucky in the marriage market. She married a guy named Robert Gould Shaw, who was apparently a shitty drunk she spent four years trying to leave – the first time, apparently, on their honeymoon.
After the divorce, she headed for England, where the marriageable women thought she was another rich American after a title. When Lady Edith Cunard asked her if she'd come to steal their potential husbands, Nancy said, "If you knew the trouble I had getting rid of mine…"
While in England, she met and married another expat, William Waldorf Astor, who became the second Viscount Astor. William's father gave them a huge estate and bought Nancy the 55.23 carat Sancy diamond in 1906. The father – who lived in Anne Boleyn's ancestral home of Hever Castle – didn't even like Nancy that much. He didn't come to the wedding, and rumor had it that he gave Nancy this diamond because it's often described as "cursed."
The Sargent painting you see shows Nancy in 1909, when she'd been married to William Astor for three years. It hangs in Cliveden, the Astor estate, and is part of the National Trust. Look at all that hair. I can only dream of having hair that thick.
Despite being very conservative and religious in her private life (Christian Scientist, if you're curious), Nancy was bright and witty on the society scene. During WWI, when soldiers she was nursing lost the will to live, she'd fuck with them to get a rise out of them. "You have no guts," she'd say. "I bet you my wristwatch you'll be dead by this time tomorrow."
To get a rise out of soldiers who'd lost the will to live, she'd say, "You have no guts. "I bet you my wristwatch you'll be dead by this time tomorrow."
If the soldier lived, she'd hand over her watch (or whatever it was she bet).
In 1919, she took over her husband's seat in the House of Commons when he took over his father's seat in the House of Lords. She was the first woman to take a seat in the HOC's 600-year history. This put her in close proximity to Winston Churchill, who didn't get along with her. He wasn't keen on the idea of women in politics, but Nancy didn't give a shit. At a dinner party, Nancy told him, "If I were your wife, I would poison your coffee." Churchill said, "If I were your husband, I would drink it." Burn.
Unfortunately for Nancy, she lost her shit in later years. She had some strange conspiracy theories about Catholics, made some anti-Semitic remarks, said she was proud to be the daughter of a slave owner, and blamed alcohol consumption when England's cricket team lost to Australia. She became estranged from her husband and her kids. When she died, she was buried in England…with a Confederate flag.
When she died, she was buried in England…with a Confederate flag.
Here she is in the 1930s wearing the tiara: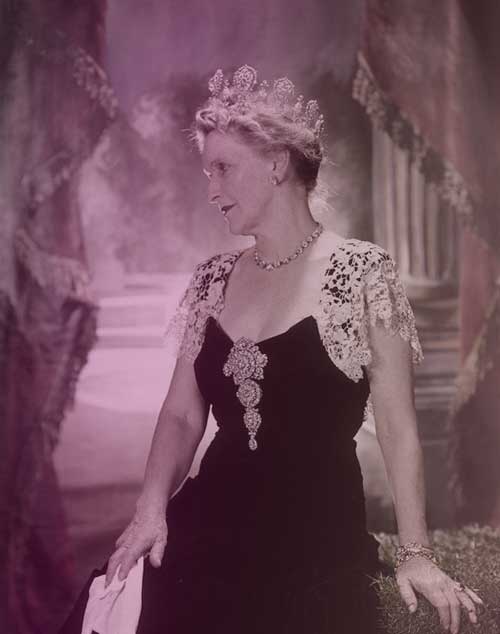 What Happened to This Tiara?
After Nancy died, her son (the third viscount) inherited it. The fourth viscount inherited it next, but he broke the chain of awesomeness by selling it to the Louvre for a rumored $1 million in 1978 (two years after he got married). If I were his wife, I'd be PISSED. Like, permanently-sleeping-on-the-couch pissed. I guess it's a good thing, though, because now we can all go see it.
How Would I Wear It?
This thing is all about intimidation. First of all, the diamond is supposedly cursed because everyone who owns it experiences war, pestilence, revolution, death, bad dentistry, or whatever other curses the Fates can think of to throw at them. So if you're wearing it and you're still standing, you have really good health insurance or you're a badass.
That being said, I'd wear it to meet new people. At a party, at a community mixer, heck, even at a job interview. I have a tendency to say stupid things, but if I did, I'd just point to Sancy and punctuate every statement with, "And then I got this. It used to be in Marie Antoinette's necklace, but now it's on my head."
Then I'd punch anyone in the face who responded with, "Cool story, bro." Because (a) I'm not a bro, and (b) a "cool story" is about a skateboard trick you didn't fuck up or the time the waitress forgot to charge you for the second round of beers. It is most demonstrably NOT about a diamond both Elizabeth I and Catherine de Medici lusted after.
Bonus History of the Sancy Diamond
For the historically curious, here's an abridged version of this diamond's history:
Mined near Golconda in India, it originally belonged to the beautiful Valentine Visconti, daughter of the Duke of Milan, and was recorded as part of her dowry in 1389. Valentine married into the French royal family, where the stone remained until 1495, when it passed to a Portuguese cousin.
In the mid 1500s, when Portugal was about to get its ass handed to it by Spain, the wily heir to the throne played Elizabeth I and Catherine de Medici against each other, promising each woman the diamond in return for ships and money. But the heir's prospects against Spain weren't good, so neither woman really wanted to commit the cash. A French courtier stepped in to make the loan – in return for the Sancy as security. But the king of France decided the diamond was the perfect size to cover his bald spot and the poor courtier was forced to "lend" the diamond to the king. I hate it when that happens.
But the king of France decided the diamond was the perfect size to cover his bald spot and the poor courtier was forced to "lend" the diamond to the king. I hate it when that happens.
The courtier later got the stone back and sold it to James I of England. But when James's son lost his head in the English civil war, the stone ended up back in France, in the crown of several guys named Louis and later in several different settings for Marie Antoinette. It disappeared briefly during the French Revolution, after which the Directory pawned it to a Spanish dude to buy horses for – you guessed it – a young general named Napoleon Bonaparte.
Well, guess what. Napoleon took over the whole damn continent and made his brother, Joseph, king of Spain. Joseph nabbed the stone from the Spanish aristocrat but lost it when he lost Spain (and Napoleon lost Europe).
Someone else found it, of course, and the stone made its way to Paris and then Florence under mysterious circumstances, where it was bought in 1828 by a rich-ass Russian with exclusive gold mining rights in the Ural mountains. The Russians sold it in 1865 and it landed in India, bought by the son of a stupid-rich man who made a fortune selling opium to China.
This dude sold it in 1906 to William Waldorf Astor, the great-grandson of America's first millionaire, so William could give it his daughter-in-law Nancy, whom he didn't even really like.
Can I get an amen.
Want to Suggest a Tiara?
Drop its name or a photo link into the comments. I'll do my best to find something interesting in its history for a future Tiara Tuesday.
---
Image credits
Nancy Astor (header image): Bain News Service, public domain via Wikimedia Commons
Sargent painting: John Singer Sargent, public domain via Wikimedia Commons
Nancy in tiara: Unknown author, public domain via Wikimedia Commons
---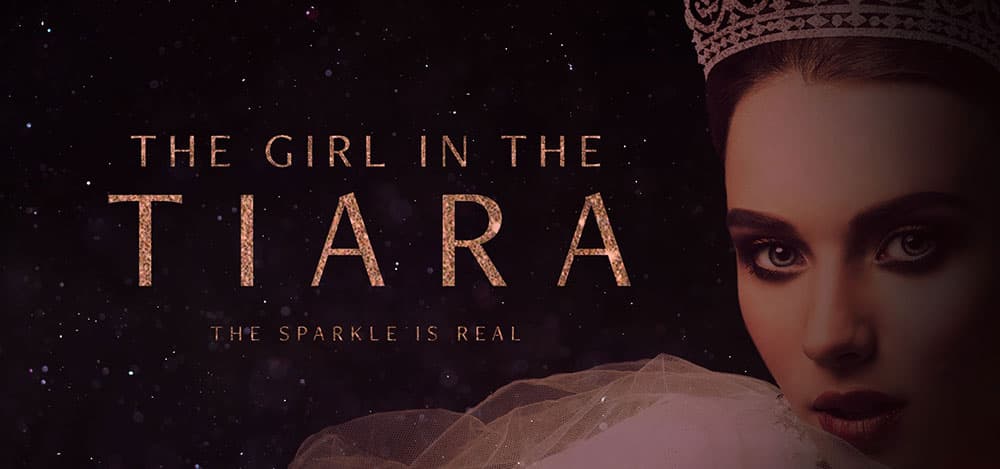 Love Royalty and Tiaras?
You might like my other site, The Girl in the Tiara. I created it to write about amazing royal women and their tiaras. It's like Drunk History meets The Crown.

Tiara Tuesday Archives
Visit the archives to read about more royal shenanigans. And by shenanigans, I mean war, revolution, betrayal, lust, murder, diamonds, and Princess Stéphanie's chafing dish.