When I found this video on AtlasObscura.com, I knew had to write a post about this. First of all, it's about a duel that took place in 1892 between Princess Pauline Metternich and a fellow aristocrat – a countess, in fact. Interesting? Check. Come to find out, they fought the duel topless. This sends the story into WTF territory. The video covers the basics:
Of course, I had to know more. Here's what I found out.
Combatant #1: Princess Pauline Metternich
If her name sounds familiar, it's probably because her grandfather was the famous Austrian diplomat Count Metternich – the one who unfucked Europe after Napoleon's defeat and exile.
Pauline was born in Vienna in 1836.
When she was 20, she married her uncle, Prince Richard von Metternich, which isn't creepy at all because he was only her mother's half-brother. At least she didn't have to order new stationery.
Richard was a serial cheater, but the marriage was happy enough to produce three daughters. Because Richard was a diplomat, the couple traveled to Berlin and Paris, where she befriended Empress Eugenie (here's her pearl and diamond tiara). It was Pauline who introduced the famous dressmaker Charles Worth to the French empress. Nice. I love me some Worth.
She was an ardent supporter of music and the arts and of women smoking cigars. When the French empire collapsed after France's defeat in the Franco-Prussian war, it was Pauline who sent Empress Eugenie's jewels to London in her husband's diplomatic bag. This is a woman you want on your side, in other words. I like her. Here's her portrait: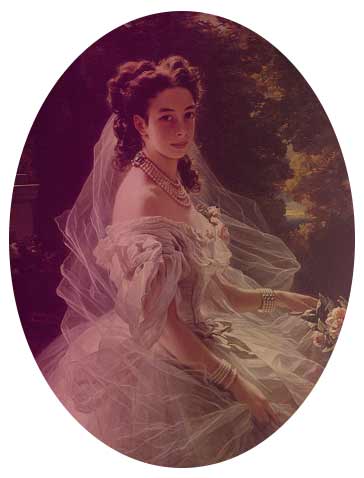 Combatant #2: Countess Anastasia Kielmannsegg
Turns out, Anna was a rival for HBIC on the Viennese social scene. She came from a very wealthy Russian family in Bessarabia (her maiden name was Lebedeff), but that didn't cut it when it came to measuring up against Austrian nobility. Anna's husband, Count Erich von Kielmansegg, wasn't even Austrian – he was German, and Protestant to boot.
UPDATE: Big thanks to Michael, who gave us some fantastic information on Kielmansegg's family in the comments. Erich was a descendant of an illegitimate child of Ernest August of Hanover (and half-sister to King George I). Erich's mother was apparently involved in some serious jewel-smuggling shenanigans after Prussia conquered Hanover. This merits further research and, possibly, its own post.
But back to our story…
Even with these social setbacks, Anna was determined to make "fetch" happen. She used her position to score seats on the boards of various charities, and then set out to kick Pauline's ass at party planning. In general, the starchy nobility preferred Pauline. The masses preferred Anna, according to the Marquise de Fontenoy.
The Duel
In August of 1892, Pauline and Anna disagreed over how to arrange flowers for the Vienna Musical and Theatrical Exhibition. Pauline was honorary president, while it seems that Anna was the acting president of the Ladies' Committee of the Exhibition. Who had the authority to make the final decision? The flowers were just the match that set them off. The real cause of their duel was who had the final say as ultimate tastemaker of Viennese society.
Apparently, this was such a big problem for them that decided to settle things with swords, fighting for first blood on the field of battle in Vaduz, Liechtenstein.
The duel was organized and officiated by one Baroness Lubinska, a fellow noblewoman who had a medical degree. She was the one who insisted they fight topless, since she knew that clothing jammed into a wound often caused sepsis. Far better, she realized, to remove a potential contaminant and prevent any unnecessary deaths. In this case, however, "topless" just means without their blouses. Both women kept their corsets and chemises for the fight.
According to the Los Angeles Times, which reported on the duel in 1892, "It was a real fight, and both were wounded – no hair pulling or plain scratching, but a duel with rapiers…"
Anna and Pauline exchanged a few weak feints. Then Anna went for broke and slashed out, giving Pauline a cut across the nose. Shocked at what she'd done, she clapped her hands to her cheeks. Pauline, sensing her opportunity, stabbed Anna in the arm. At the sight of blood, both women's seconds fainted.
At this point, the men present – footmen and coachmen, standing with their backs turned – rushed to help. Baroness Lubinska chased them back with her umbrella since the women were, after all, scantily clad (for the times).
Some sources have the injuries reversed, saying it was Pauline who cut Anna on the nose, and then Anna stabbed Pauline in the arm. Pauline was considered the winner, which makes me think she's the one who did the arm-stabbing. There's no way a glancing nose blow beats a stab through the arm.
The Aftermath
Okay, so there really wasn't much of an aftermath. I mean, dude, it was about flowers. And no one died. According to the Pall Mall Gazette, their seconds asked the women to make up immediately after the fight, and no one reports they didn't, so we must assume they did.
There are a few interesting tidbits about Pauline's kids.
Pauline's second daughter, Pascaline, married a dude who was insane and an alcoholic (Count George of Waldstein) and murdered her in an alcoholic delerium in 1890.
Pauline's third daughter, Clementine, was mauled by a dog as a youngster. Her face was scarred so badly she chose never to marry.
I'm not sure there's a lesson here. If there is, it's that you should swordfight topless and keep an eye on your kids and dogs.
Image credits:
Pauline, header: Eugène Boudin [Public domain], via Wikimedia Commons
Pauline, portrait: Franz Xaver Winterhalter [Public domain], via Wikimedia Commons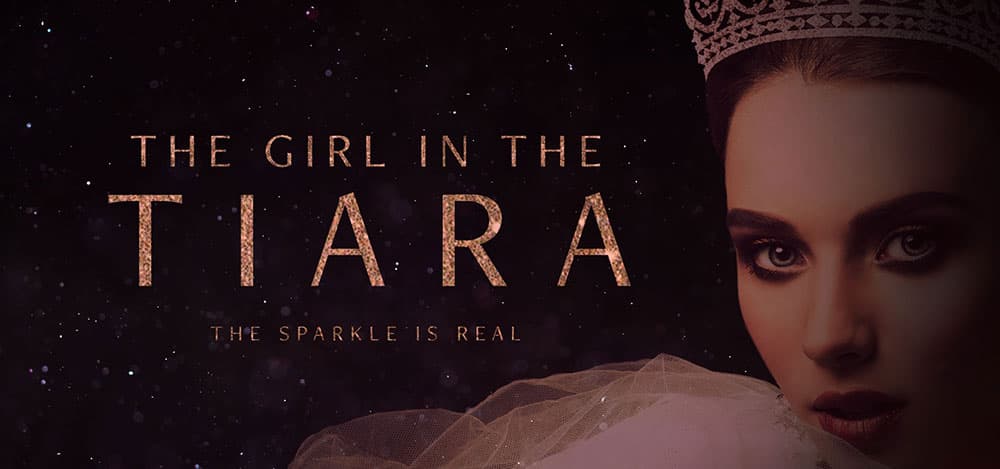 Love Royalty and Tiaras?
You might like my other site, The Girl in the Tiara. I created it to write about amazing royal women and their tiaras. It's like Drunk History meets The Crown.
More Scintillating Posts