First things first – there's no public domain image of the Lanckoronski sapphire tiara that I can show you. So check out the image of the tiara here, then come back and read about its story.
There's something loopy in the documentation for this tiara, too. It usually gets lumped into a set of sapphire jewels made by Chaumet in 1894, supposedly for Countess Leonie Potocka.
Um, no. Leonie died in 1893. Pretty sure you don't commission a tiara for someone after they're dead.
Also, if you look at the tiara and then at the other components of the so-called "set" by Chaumet, the tiara just looks different. The necklace and brooch definitely look like Chaumet, with noted design characteristics from the 1890s.
The tiara…doesn't.
The workmanship looks a little rougher and older than the refined curls and swirls of the Chaumet necklace. Maybe the Chaumet set was commissioned to accompany a pre-existing tiara. Take a look at the link above and tell me what you think in the comments.
Anyhoo, the tiara features an openwork mount of scrolls set with rose-cut diamonds and cushion-cut sapphires, on a base of calibre-cut sapphires with diamond points, all lined by teensy tiny diamonds mounted in silver and gold. Now let's see what we can find out about the family who owned it…
Meet the Lanckoronskis
Obviously, the story on this one is a little garbled. So I dug a little bit into the family's history and found some interesting shit. Let's go back to the future and work our way forward, shall we?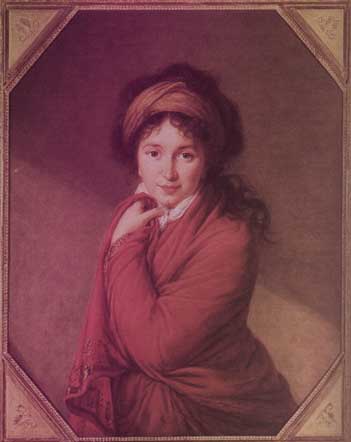 Leonie's grandmother was the Russian countess Varvara Golovina, painted by Elisabeth Vigée Le Brun (see above). Of course, Vigée Le Brun is one of my favorite painters, best known for her paintings of Marie Antoinette.
Varvara was a lady-in-waiting to Catherine the Great, so you know she saw and heard some interesting shit. She and her brother were both art lovers, which figures into the story later. Varvara's marriage was unhappy, and she became a close friend and confidante of Grand Duchess Elizabeth, wife of the future Tsar Alexander I. Varvara published her memoirs at Elizabeth's express request, which you can download for free. She died in Paris in 1819, and is buried at the famous Père Lachaise cemetery.
Varvara's daughter, Elisabeth, married a Polish diplomat, Leon Potocki. Not much to see here, other than a sad note on his Polish Wikipedia page: "During his lifetime, he was popular as a diarist and author of works on the history of customs. After his death he was almost completely forgotten."
Elisabeth's daughter, Leonie Wanda Potocka, is (theoretically, depending on those wacky dates) the one who owned this tiara. She married Count Kazimierz Lanckoronski, a man from a noble Polish family whose ancestral home was in Galicia. Here she is, in a miniature painting from about the time of her marriage: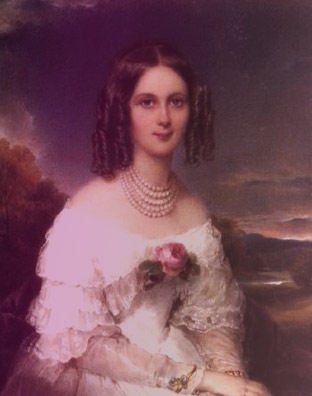 Now, the Lanckoronski family was known for one thing: a massive art collection. They had a shit-ton of Italian Renaissance art, antique sculptures, porcelain, bronzes, you name it.
How the hell did they get it all?
Ironically, through the destruction of their home country.
From 1772 through 1795, Austria, Prussia, and Russia systematically carved up Poland between them, eliminating it from the map. No country meant no monarchy, and much of the art that belonged to the Polish crown went up for sale. The Lanckoronskis took advantage of the buyers' market, loaded up on art, and moved to Vienna. Why Vienna? Their ancestral homeland was now a part of the Austro-Hungarian Empire, so if they wanted to remain influential, they had to go where the new king was.
Leonie and Kazimierz had a son, Karol. Continuing the family liberal arts tradition, he was an author, historian, and art patron who served as Grand Steward to Emperor Franz Josef. He might have been a teensy bit of a show-off, too, because he built the huge Palais Lanckoronski in Vienna to house his family's art collection, and added a Rembrandt and Tintoretto to the collection. Writers and artists made pilgrimages to the family palace to check out the collection, including Rainer Maria Rilke and Auguste Rodin.
But when the Austro-Hungarian empire fell to pieces during World War I, Karol found himself out of work. No emperor meant no more Grand Steward job. On the plus side, thanks to the defeat of Austria-Hungary, Poland became an independent country once more. Karol realized you can go home again, as long as the Allies are cool with it, and he began slowly moving his art collection back to Poland. He divided his time between Poland and Austria.
Karol realized you can go home again, as long as the Allies are cool with it, and he began slowly moving his art collection back to Poland. He divided his time between Poland and Austria.
You can guess where this is going if you remember what happened to Austria prior to World War II – a little thing called the Anschluss. As you might know, World War I solved nothing. It just left Germany ragingly pissed off over the peace terms and waiting for the moment to take revenge.
So, as usual, Karol's kids were the ones who had to deal with the mess their parents' generation created. Karol died in 1933, before things got completely fucked up. His son, Anton, and his daughter, Karolina, were the ones who paid the price.
Bonus Nazi Connection
In 1938, Nazi Germany annexed Austria. Dick move, right? They also confiscated the Palais Lanckoronski. But what about all the art left inside? Since the palace's owner, Anton, was a Polish citizen, the Nazis pretty much told him to suck it. They confiscated the remaining artwork in the palace in 1939, just after Germany declared war on Poland.
Hermann Göring himself "acquired" two paintings from the Lanckoronski collection, which Hitler ordered him to return. Göring refused. As a result, Hitler issued a decree that all artwork confiscated in Austria had to remain in Austria…unless the artwork was purchased, in which case the buyer could take it back to Germany. So Göring got to keep his paintings, but everyone else had to leave that shit where they found it.
But what were the Lanckoronskis doing during all of this?
A lot, as it turns out.
Countess Karolina Kicks Ass & Takes Names
Karolina had a PhD in Art History and taught at Lvov University in Poland. When the Nazis invaded, she joined the Polish resistance. She moved around the country, carrying messages for the underground army. Eventually, she was caught, arrested, and held in Stanislawow prison, where she was sentenced to death. The chatty Gestapo chief, Hans Kruger, told her he'd murdered 23 other professors at her university. In reality, he'd ordered the murder of 250-300 members of the Polish intelligentsia (teachers, mostly), trucking them out into a field and shooting them.
Karolina vowed to tell the world. Thanks to her family's sway in Poland, the death sentence wasn't carried out. Instead, they sent her to Ravensbrück, the concentration camp for women.
She was too well-known to kill, but too inconvenient to release. The Italian royal family (whose Princess Mafalda was held at Buchenwald) petitioned for Karolina's release. The President of the International Committee of the Red Cross asked Himmler to let her go.
Karolina was too well-known to kill, but too inconvenient to release. The Italian royal family petitioned for her release. The President of the International Committee of the Red Cross asked Himmler to let her go.
Himmler refused.
Why? Because he was a dick.
And because Karolina refused to tell him there was no such thing as the state of Poland. But Karolina wasn't about to be intimidated. In 1945, when Karolina was released, she was photographed as an officer of the Polish II Corps of Polish Armed Forces in the West. This photo radiates strength: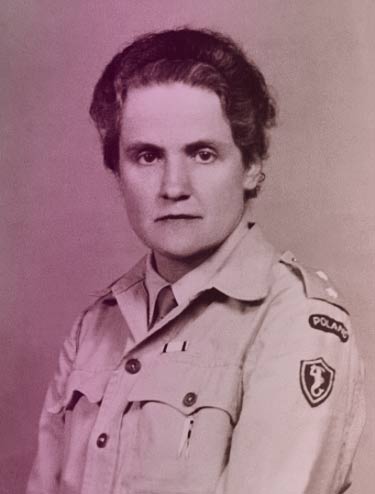 Her family palace in Vienna had been destroyed. Their lands in Poland were gone, too. They still had some property in Austria, but Karolina was over it. She moved to Rome and wrote down everything about the war she could remember in a book called War Memoirs. The only catch? She didn't want it published while she was still alive.
When the commander of Ravensbrück went on trial for war crimes, Karolina testified. She told the court about the gruesome medical experiments performed at the camp.
In 1967, she, Anton, and a surviving sister created the Lanckoronski Foundation to promote and support Polish culture. If you go to their site, you'll see a quote from Karolina on the home page: "The more you have received, the more you owe your country and those near to you."
The foundation awards more than $300,000 worth of scholarships and research grants per year. In the early 90s, after the fall of Communism in Poland, she gifted her share of the remaining family art collection (more than 200 paintings) to President Lech Walesa. You can see those paintings in the castles in Krakow and Warsaw.
In 2001, she finally allowed her book to be published in Poland. You can get it on Amazon – it's called Michelangelo in Ravensbruck. She died at the age of 104 in 2002.
Where Is This Tiara Now?
We don't know. It was auctioned off in 1977, along with the other pieces in the Chaumet set. An anonymous buyer who was not me paid 65,000 Swiss francs and, from what I can tell, it hasn't been seen in public since.
Thanks to a comment from reader Riccardo Pisa Simonini, we know there were a total 4 pieces in that set auctioned off: the tiara, a corsage aigrette, a necklace, and a corsage. All together, they went for 480,000 Swiss francs.
Incidentally, an ancient Roman marble statue once belonging to Anton ended up in Brooke Astor's collection, and was sold again with the rest of her stuff after her death in 2012.
How Would I Wear It?
This one has an unrefined look to it, a little wild, a little haphazard. That being the case, I'd wear this one when the hubby and I go tearing through the yard on his quad or in his truck. One of the funnest parts of living in the country and having a little bit of space is that you can do dumb shit like drive around without wearing seatbelts with a bottle of wine in the cup holder. I figure, if we flip the truck or do anything really stupid, the tiara will help them identify my body.
That

'

s

the Lanckoronski sapphire tiara!

Want to suggest a tiara? Drop its name or a photo link into the comments. I'll do my best to find something interesting in its history for a future Tiara Tuesday.
---
Image credits
Leonie and Karol: Karl von Blass, CC BY-SA 4.0 via Wikimedia Commons
Varvara: Louise Élisabeth Vigée Le Brun, public domain via Wikimedia Commons
Leonie: Emanuel Thomas Peter, public domain via Wikimedia Commons
Karolina: Image by an unknown photographer, from the Centralne Archiwum Wojskowe, public domain via Wikimedia Commons
Affiliate Disclosure
I'm a participant in the Amazon Services LLC Associates Program, an affiliate advertising program designed to provide a means for sites to earn advertising fees by advertising and linking to Amazon.com. As an Amazon Associate, I earn from qualifying purchases. The link to Countess Karolina's book on Amazon is my affiliate link. If you choose to get her book through that link, Amazon will give me a few extra cents.
---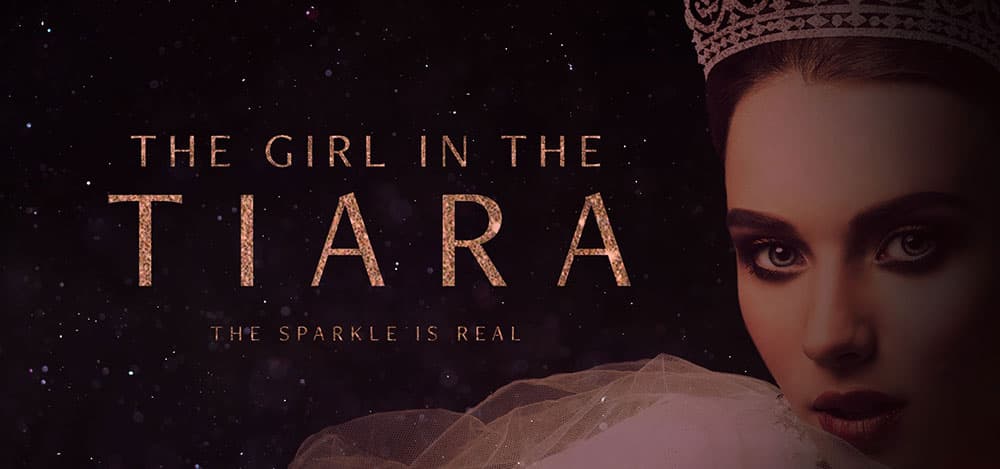 Love Royalty and Tiaras?
You might like my other site, The Girl in the Tiara. I created it to write about amazing royal women and their tiaras. It's like Drunk History meets The Crown.

Tiara Tuesday Archives
Visit the archives to read about more royal shenanigans. And by shenanigans, I mean war, revolution, betrayal, lust, murder, diamonds, and Princess Stéphanie's chafing dish.