Empress Eugénie's pearl and diamond tiara tiara was commissioned by Napoleon III as a wedding present for his bride, the Spanish-born Eugénie de Montijo. Created by Parisian jeweler Gabriel Lemonnier in 1853, the tiara was made with 212 pearls and 1,998 tiny diamonds (totaling 63.3 carats) that already belonged to the French crown.
These stones had been used in previous jewels belonging to Napoleon's second wife (Empress Marie Louise) and Marie Antoinette's daughter (the Duchess of Angoulême).
After Napoleon I was exiled and the Bourbon dynasty restored, the new king, Louis XVIII, had Marie Louise's pearls reset for his daughter-in-law, the Duchess of Angoulême. Those pearls sat untouched during the next two reigns, both of which ended in revolutions, although not the blood-running-in-the-gutters kind that killed Louis XVI and Marie Antoinette.
Fast-forward to 1848. France is a republic again…and then Napoleon's nephew comes to town. This guy, Louis Napoleon, gets himself elected president with 5.5 million votes because nothing plays as well as nostalgia for good times gone by. Don't believe me? Count how often Republicans running for office invoke Ronald Reagan.
After four years of successful presidential rule, Louis Napoleon remembered he was a Bonaparte and did what Bonapartes do – declared himself emperor.
After four years of successful presidential rule, Louis Napoleon remembered he was a Bonaparte and did what Bonapartes do – declared himself emperor.
Emperors need an empress, however, and Napoleon III chose the daughter of a Spanish nobleman – the beautiful Eugénie de Montijo. He'd been chasing her for a few years, but she refused to do so much as kiss him until he married her. At a house party, he once asked her the way to her room. "Through the chapel, sire," she said.
Burn.
Napoleon III proposed to two other women before Eugénie. Both said no. Eugénie, probably unaware of the other two proposals, accepted – after making it clear she was only interested in his money and title. Louis Napoleon, an incorrigible womanizer, said, "Cool. So can we do it now?" Okay, that's not what he said. He said: "I have preferred a woman whom I love and respect to a woman unknown to me, with whom an alliance would have had advantages mixed with sacrifices."
Two weeks later, they got hitched and Eugénie became the proud owner of a set of jewels that included this tiara, a six-stranded pearl necklace, a stomacher, and bracelets. She wore the tiara and necklace for her famous portrait by Winterhalter: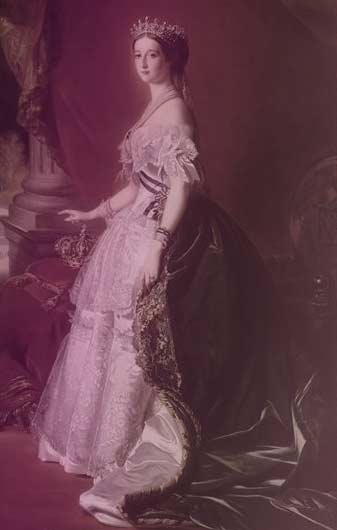 How to Tell Your Empire Is Less than Secure
In 1855, Napoleon III and Eugénie visited Queen Victoria in England. One night, Eugénie and Victoria decided to go to the opera. When it was time to take their seats, Eugénie glanced behind her quickly and sat down. Victoria sat without even looking. While there was no doubt Eugénie was prettier and better dressed than stodgy Victoria, witty Brits said at least their queen was confident enough to sit with looking, 110% sure someone would put a chair under the royal tush wherever she chose to sit.
Unless you're Victoria, I don't recommend duplicating this feat. I can only imagine what horrible things would happen if you took a seat on, say, the subway without looking first. A dry cleaning bill, to say the least.
During her turn as empress, Eugénie did some cool shit. She opened the Suez Canal in Egypt. She tried to get George Sand elected as the first female member of the Académie française. She went to Algiers with Napoleon III, and acted as regent while he was out of the country three times. Once, in Constantinople (not Istanbul), she got bitch-slapped by a sultana for being so forward as to take the arm of the sultana's son as he showed her around the palace. Do not get uppity with sultanas – they're not afraid to choke a bitch.
Once, in Constantinople (not Istanbul), she got bitch-slapped by a sultana for being so forward as to take the arm of the sultana's son as he showed her around the palace.
Here's Eugénie a few years after becoming empress. I think she's lovely: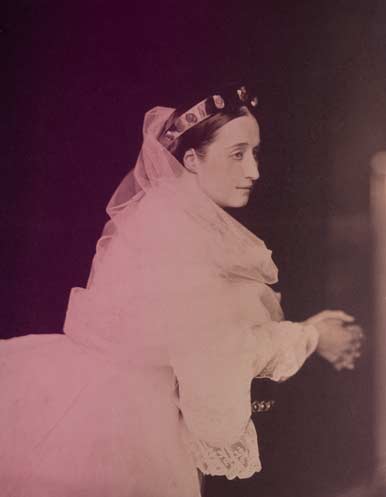 In 1870, Napoleon III did something really stupid. He went to war with Germany. The Germans kicked the living shit out of his army, he surrendered, and before you could say "Waterloo, I was defeated, you won the war," France decided emperors were a really bad idea and they probably shouldn't have one anymore.
At first, Eugénie didn't believe he surrendered. When they brought her the news, she said: "No! An Emperor does not capitulate! He is dead…they are trying to hide it from me. Why didn't he kill himself? Doesn't he know he has dishonored himself?"
It was Eugénie's American dentist, Dr. Thomas Evans, who helped her flee to England. She took all her personal jewelry with her and tossed it into a bank vault. This didn't include her pearl tiara, however, since it was the property of the crown. She lived in England, in a grace-and-favor residence bestowed on her by Queen Victoria, until her death in 1920.
What Happened to This Tiara?
It remained in France with the rest of the crown jewels. But the showrunners of the fragile new Third Republic were really freaked out by those jewels. As long as they owned them, it would be really tempting for another Bonaparte or Bourbon to try to get "elected" and then say, "Oh, hey, these look nice, let me just try this shit on." Boom. Instant Empire, just add water.
They decided to get rid of all temptation and sell the crown jewels in 1887.
They estimated that Eugénie's tiara would sell for 100,000 francs, but it only brought 78,100 francs – sold to a Monsieur Julius Jacob. Tiffany's bought 24 out of the 69 lots put up for sale. Apparently, Monsieur Julius Jacob discovered he didn't really need a tiara, because he sold it in 1890 to Prince Albert I of Thurn und Taxis. He gave it to his wife, Archduchess Margarethe Klementine of Austria. The Thurn und Taxis family, who had an insane jewelry collection of their own, kept the tiara for a hundred years. Here's Margarethe in the tiara: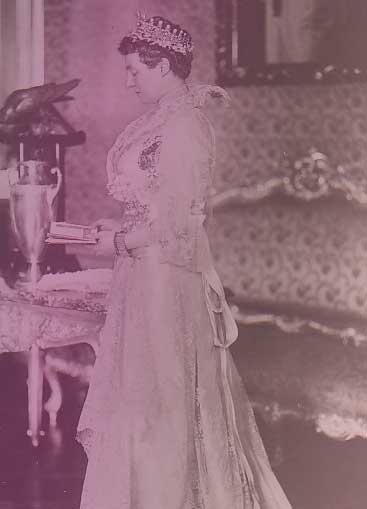 The Punk Princess
Did you even know there was a "punk princess"? Well, there is. She's Princess Gloria of Thurn und Taxis, and her other nickname is "Princess TNT." In 1980, Gloria married the billionaire Prince Johannes of Thurn und Taxis (34 years her senior). From a poor but noble family, Gloria knew what she was getting into when she married the much older and flamboyantly bisexual prince – he made it clear that he wanted an heir and someone to entertain him. Gloria was up to the task. She wore Eugénie's tiara on her wedding day and, frankly, looked a little nervous – click here to see her in it.
In the 80s, Princess Gloria was mostly famous for partying and having a mohawk that she dyed different colors. For her 25th birthday, she table-danced wearing a chain-mail dress that was rumored to cost £18,000. She had four Harleys and once got arrested at the airport for possession of pot. I could go on, but you guys get the idea. Getty images doesn't allow embedding for any of the good images of Gloria in the 80s – but you can click here to see one of her wilder hairdos and a TO-DIE-FOR necklace.
When Prince Johannes died in 1992, it created a huge tax problem for the family. To pay the £300 million inheritance tax, Gloria sold off a bunch of the family jewels, including Eugénie's tiara. Collectively, the jewels she sold raised $13.7 million. The good news? This tiara didn't disappear into someone's secret vault. The Friends of the Louvre bought the tiara and put it on display in the Apollo Gallery, so we can all get a good look at it.
Here she is in 2007:
How Would I Wear It?
I think this one looks better on than in a still photo. This tiara looks luminous in Eugenie's portrait and lovely in Gloria's wedding photo. It looks cold in the still photo, and the shapes don't look that pleasing to the eye. Still, let's give it the benefit of the doubt.
I'd wear this on a booze cruise.
Why?
The pearls make me think of water. The way the diamonds encrust the frame make me think of barnacles on a boat (not flattering, but it's what my brain digs up). And being married to a womanizer would drive me to drink.
Water + barnacles + womanizer = booze cruise.
Do the math.
That's

Empress Eugénie's pearl and diamond tiara!

Want to suggest a tiara? Drop its name or a photo link into the comments. I'll do my best to find something interesting in its history for a future Tiara Tuesday.
---
Image credits
Tiara: Image by Jean-Pierre Dalbéra, CC BY 2.0 via Flickr
Eugenie, portrait: Franz Xaver Winterhalter, public domain via Wikimedia Commons
Eugenie, photo: Gustave Le Gray, public domain via Wikimedia Commons
Margarethe Klementine: Image by an unknown photographer, public domain in the US via Wikimedia Commons
---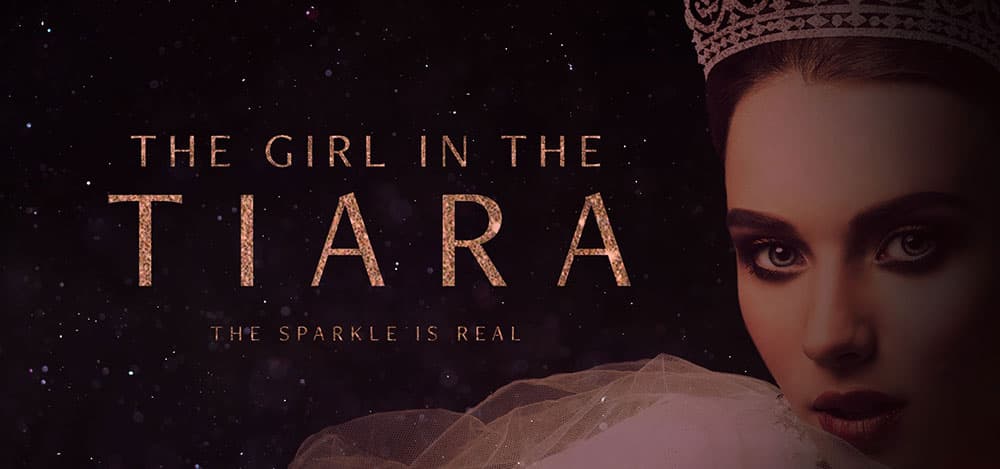 Love Royalty and Tiaras?
You might like my other site, The Girl in the Tiara. I created it to write about amazing royal women and their tiaras. It's like Drunk History meets The Crown.

Tiara Tuesday Archives
Visit the archives to read about more royal shenanigans. And by shenanigans, I mean war, revolution, betrayal, lust, murder, diamonds, and Princess Stéphanie's chafing dish.