I've been tagged by the wonderful heroic fantasy writer Will Hahn to participate in the "Meet My Character" blog hop.
The logical thing to do here would be to introduce you to Emma, the protagonist in my soon-to-be-finished literary novel, The Red Road. But when have I ever done the logical thing? I do everything the hard way, including this blog post.
Instead, I'm going to introduce you to a character in an upcoming novella—you heard about him in The Romanov Legacy, but early next year, you're going to get to read his story…where he sows the seeds of danger and romance that will send Natalie and Beth on another epic adventure.
1. What is the name of your character? Is he fictional or a historic person?
Christof Ehrlichmann is his real name, but he also has a nom de plume—Johannes Feigling. If you speak German (or look up name meanings online, which is what I do), you'll see a stark contrast between Christof's real last name and his adopted one.
Christof is entirely made up, although his story is set in motion by a very real historical figure—the woman at the center of one of the greatest hoaxes of the 20th century.
One day, I saw a close-up portrait of Sean Penn in a magazine. Instantly, my brain said, "It's him. It's Christof." Not "Hey, that's Sean Penn," or "Hey, that guy's a good actor," or "Hey, I'm glad he hasn't Botoxed himself out of recognition." That's never happened to me before, so I ran with it. Thanks to a Wikimedia Commons image, I created the graphic casting Sean Penn as Christof (image by Seher Sikandar for rehes creative [CC-BY-SA-3.0], via Wikimedia Commons).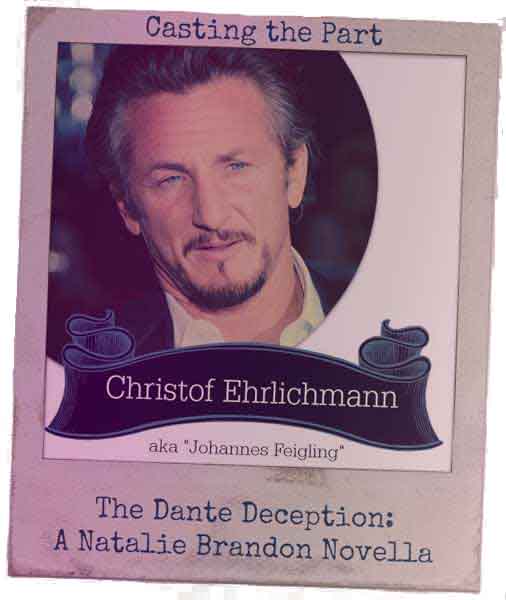 2. When and where is the story set?
His story begins in Germany's Black Forest in 1967. He's just a boy at that time, but over the years his journey takes him from his village of Unterlengenhardt to Moscow and then the English countryside. When the you-know-what hits the fan, we'll find him in San Francisco, on Natalie Brandon's doorstep, holding a gun and a grudge.
3. What should we know about him?
Christof learned something very important at an early age—people see what they want to see. Guess who he learned it from? Anna Anderson, the woman who claimed to be the missing Grand Duchess Anastasia, purported survivor of her family's massacre in 1918.
Many friends and courtiers believe she was Anastasia, even though when Christof looked at her, all he saw was a dirty, ugly old woman. When Russian émigrés showered Anna Anderson with gifts and mementos, it made Christof angry. Why should he and his mother live in poverty when an obvious impostor gets a free ride?
Everything Christof does in life is designed to take advantage of the kind of people who believed Anna Anderson was Anastasia, despite all evidence to the contrary.
4. What is the main conflict? What messes up his life?
Christof becomes a forger…and a damn good one. He's not a good actor, or he would have "forged" a new identity for himself just like Anna Anderson did. Instead, he turns to historic and archival documents. But any forger, no matter how good, has to live with the fear of getting caught.
Christof's main conflict comes when he does get caught…by Natalie and Beth Brandon, heroines of The Romanov Legacy.
5. What is the personal goal of the character?
Christof is kind of warped when it comes to personal goals. Anger took hold of him so young that he never really had a chance to do anything but dream about taking advantage of people's gullibility. He is looking for a father figure, though. Someone who can respect his abilities instead of denigrate them. He thinks he finds one in The Dante Deception, and spends the rest of the novella trying to earn that figure's respect. What he'll have to decide is how much that respect is worth if you have to go to murderous extremes to get it.
6. Is there a working title for this novel and where can we read more about it?
It's The Dante Deception, a prequel novella to The Romanov Legacy. Christof gets a name-check in that book as "Feigling." But there's so much more to the story than she tells, which is why it's getting a novella. Plus, Christof and his cohorts are going to reappear in Natalie's world, so everything in TDD is going to set you up for what happens next.
7. When can we expect the book to be published?
Late spring / early summer 2015. But you can read The Romanov Legacy right now!
In the spirit of the Meet My Character Blog Hop, here are two people whose posts I'd enjoy reading: S.A. Hunt and Jenn Thorson,
More Scintillating Posts