This book was simultaneously fun and torturous to research. On the one hand, who wouldn't want to prowl around the web and YouTube looking for pictures and video of a beautiful French church? On the other, I knew going in that a hell of a lot of people were killed there in a gory massacre in 1792. So there's that.
As the idea for the story grew, I also looked into things like French control over Algeria, Charles Martel's victory at the Battle of Tours, the epic French medieval poem The Song of Roland, and Joan of Arc. This book was intended to be much shorter than The Dante Deception (mission accomplished!), but it also meant that so many interesting tidbits and rabbit holes of research went unfollowed (damn it). I mean, I had this whole de Gaulle assassination subplot that just got dropped entirely because…well, I had to pick between Baptiste's grandfather's backstory and Maillard's father's backstory. I went with Maillard.
The older I get, the more I realize how little time any of us really have, so things I might have followed up on ten years ago have fallen by the wayside. Such is the curse of age.
If any of these topics sound interesting to you, too, check out my resources below. If they're still in print, book links will take you to Amazon through my affiliate link. As an Amazon Associate, I earn from qualifying purchases. In plain English: if you buy the book, Amazon will give me a few extra cents for my research slush fund! Woo-hoo!
---
Saint-Joseph-des-Carmes & the Massacre
Websites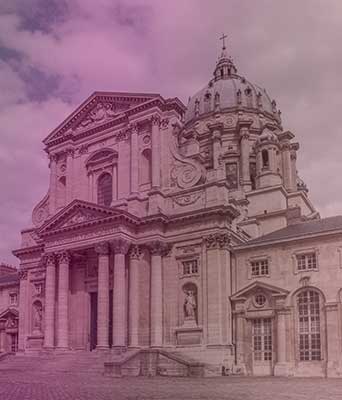 The official Saint-Joseph-Des-Carmes church website. The site is in French, but between my high-school French and Google Translate, I got a ton of information from this site. The page I linked to is their page on the massacre.
Blogue de Jean-Pierre Martel. Also in French, the post I linked to here has gorgeous photos of the inside of the church, including the side chapels. If you're using Chrome, hit Google Translate and look for the picture captioned "Chapel of the Blessed Martyrs of the Carmelites." This is the side chapel Natalie ducked into, where Maillard found her.
Poivrota a Paris. (2019 update: damn it, looks like this blog is kaput…) Another travel blog with gorgeous photos of the church. Scroll about 55% of the way through the post and you'll find a picture of the painting on the ceiling of the Chapel of the Blessed Martyrs of the Carmelites. I had Natalie look up at this painting specifically because I found this photo. If I can see exactly what the character is seeing, it's so much easier for me to find a thread to follow throughout that scene.
AndrewHopkinsArt. This blog has a specific focus on art, and the photos from Saint-Joseph-des-Carmes focus on the paintings inside rather than the massacre or the architecture in general.
In the Footsteps of De La Salle. This website traces the Parisian journey of the founder of the Christian Brothers, who actually spent time at Saint-Joseph-des-Carmes (pre-Revolution). Because he was there, this site dedicated a page to the church as a whole, covering its general history and the massacre. This link takes you to a page with a video embed where you can hear the story of the massacre and see the infamous staircase. And by "staircase," they mean, like, three tiny steps. When I'd only read written accounts, I pictured an entire flight of stairs and was really confused by the geography of the event. Then I got smart and dug for video, and this one cleared it all up.
Books
Behind the Scenes in the Terror by Hector Fleischmann. Okay, so I didn't use the most interesting thing I found in this book, I still want to pass it on. Skip to page 180 – there's a section about an inscription found in the church, which was used as a prison even after the massacre. Quite a few famous folks were held here, including Josephine de Beauharnais. She supposedly made the inscription, which also contains the names "Citoyenne Tallien" and "Daiguillon." Suffice to say, things aren't what they seem…but this chapter of the book makes for fascinating reading. It's free on Google Books.
Mon Agonie de trente-huit heures. This is an account of the massacre by an actual survivor…but I couldn't find a translation. I picked at it with my high-school French, and will come back to this when I have time, but in the interest of finishing this book before I turn 40, I had to move on without the benefit of this poor guy's story. It's also free on Google Books.
---
Discalced Carmelite Nuns & the Christian Brothers
Websites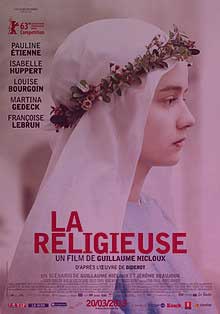 Carmelite Sisters of the Most Sacred Heart of Los Angeles. I needed to know about the habits worn by Carmelite nuns, and this website has a wonderful page on just that topic. Plus, look at the picture on the top of the page – they're so lovely and happy, I couldn't resist reading more of their site than I needed to.
Archdiocese of Washington. Didn't find enough on habits at the previous link? Click this one and scroll down to the embedded video. A nun named Sister Elizabeth gives a brief talk that answers burning questions like, do habits have pockets?
CarmeliteMonks.org. Okay, so now we know what nuns wear, but what do the Carmelite monks wear? Before I made Marius a Christian Brother, he was going to be a Carmelite monk.
Movie
---
The Song of Roland & Related Topics
Websites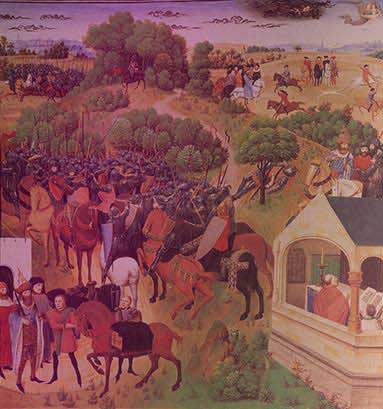 'The Medieval Oliphant' Traces the Horn Used by Warriors and Hunters. This New York Times article is a brief review of the book quoted in the title, but it's actually a tidy summary of what the heck an oliphant is and where to find them. In the poem The Song of Roland, the oliphant plays a large role in saving and damning the hero. Also, the oliphant is clearly the etymological root of Timothy Olyphant's last name, and I love Timothy Olyphant, so any time reading something that makes me picture him is time well spent.
Reconsidering the Medieval Oliphant (Walters Art Museum Journal). Yes, I read two pieces about oliphants even though they're only mentioned once in the book. So sue me.
Medieval Jokes. Okay, so this isn't about Roland, but remember when Belial tells Natalie a joke? I cribbed it from here.
Books
The Song of Roland. The version I read and the version I quote are not the same. Translation makes a difference, but so does getting sued. The version I read came from the hubby's The Norton Anthology of World Literature Volume B (affiliate link), which has a lovely and very readable translation. I read the poem in two sittings, both on a Saturday. I've been away from medieval poetry for awhile, so I'd forgotten about the eyeballs flying out of people's skulls and spines being ripped out on the battlefield and all that stuff. It's good times. When it came to actually quoting the poem in the book, though, I went for a public domain version that wasn't quite as modernized in the translation. That version came from Project Gutenberg.
---
The French Foreign Legion & the Algiers Putsch
Websites & Videos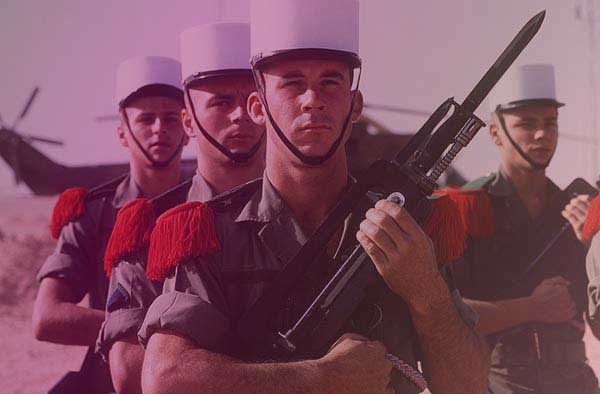 ---
The 1995 Paris Bombings & Front Nationale
Websites
---
Joan of Arc
Books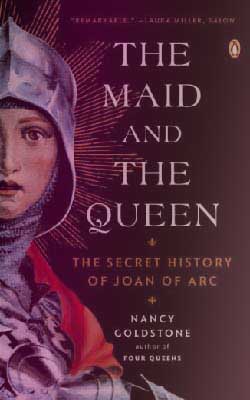 The Maid and the Queen (affiliate link). This book bills itself as a "secret history," but if you ignore that part – because it doesn't hold water – it's still a super-interesting book. Nancy Goldstone takes a lot of time in the beginning to set up the civil war raging in France so you can actually understand what the French want, what the Burgundians want, and why the English don't give a shit about what anyone else wants. Worth a read.
Joan of Arc: A Life Transfigured (affiliate link). I'd read Kathryn Harrison's fiction (Poison – affiliate link) before, so I was willing to see how she fared at a biography. This one's a skimmer – light on analysis, and most of the interesting quotes come from the transcripts of Joan's trial. Still, this is one of the few books that mentions pop culture representations of Joan and how they fit into her overall legend.
Personal Recollections Of Joan Of Arc (affiliate link). This two-volume set is really a historical novel by Mark Twain. Dude, did you guys know he wrote this? I hadn't heard of it before, but he himself said, "It means more to me than anything I have ever undertaken." It's written from the point of view of her page, now 82 years old and looking back on his life. So freaking fascinating – and the Kindle edition linked above is only 99c.
I really wanted to dig deeper into Joan's story – and I know there are SO MANY more resources out there, but by the time I got through these, I knew the story was heading in a different direction. Decades ago, I remember reading and liking Regine Pernoud's classic Joan of Arc, but it looks like that version is out of print now. I also wouldn't mind rewatching Milla Jovovich in The Messenger, but I just started Peaky Blinders and I'm kinda crushing on Cillian Murphy's voice, so maybe later. I love John Malkovich, too, but the dauphin is such an unsexy role, y'all.
Websites
Relics of Saint Joan of Arc. Written by a member of the Joan of Arc Center in Orleans, this article talks about the purported relics of Joan's that we know about, from body parts to letters to…other things that may make an appearance in the book.
The Sword from Heaven. This paper, written by an amateur historian, is so much fun to read. It's an examination of what we know about the St. Catherine of Fierbois sword – including a theory that it could be made out of meteorite. Whaaaat.
Saint Joan of Arc's Trials. You can read the transcripts of the original trial and the re-examination trial, all for free, all posted here. I dipped in and out of these instead of reading straight through – even if you're interested, it can get a bit dry. Still, she really got in some good zingers and it's fascinating to see the medieval mind at work.
---
Affiliate Disclaimer
I'm a participant in the Amazon Services LLC Associates Program, an affiliate advertising program designed to provide a means for sites to earn advertising fees by advertising and linking to Amazon.com. If you choose to buy using any of my affiliate links, it won't change the cost of your purchase, but I'll get a few extra cents for the book research fund.
More Scintillating Posts