Created by Harry Winston in 1958, Empress Farah's Noor-ul-Ain tiara was made for the Shah of Iran's second wife…whom he divorced before the tiara was finished.
The only woman ever to have worn it is the Shah's third wife, Farah Diba. You might remember the Shah's first wife, the beautiful Princess Fawzia of Egypt and her lovely Van Cleef & Arpels tiara. After the Shah and Fawzia divorced, he married Soraya Esfandiary-Bakhtiari in 1951 (Stalin sent them a mink coat and desk set with black diamonds as a wedding present).
After seven childless years, he tearfully divorced Soraya while this tiara was still in the workshop at Harry Winston. It was delivered after the divorce was finalized. In 1959, the Shah chose Farah Diba as his third wife and she wore this tiara on her wedding day.
The tiara includes 324 stones set in platinum – all pink, yellow and white diamonds – and is said to weigh a whopping 4 pounds. That pink honker in the middle is a 60-carat diamond called the Noor-ul-Ain, or "Eye of Light." It's one of the largest pink diamonds in the world.

One interesting feature of this tiara is how different it looks up close and far away. There are quite a few pictures of Farah in the tiara, and from far away, it looks much more traditional than it does up close. Here's a good "far" shot for comparison – way different than the photo above, right?
How'd They Get That Diamond?
They got it the old-fashioned way: they stole it.
In 1738, Nader Shah Afshar invaded Afghanistan. Payback's a bitch, and the Afghans had it coming. They'd invaded Iran in 1719, and even thought it took the Iranians ten years to throw them out, the Iranians wanted more.
Nader Shah went on the war path. He sacked Kandahar and Kabul and moved on to northern India, which is where he plundered the bulk of the precious stones brought back to Iran. Of course, this was also payback since the Moghul rulers had plundered the Iranian capital in 1722. The Shah brought back a metric buttload of stones, including an enormous diamond known as the "Great Table," which had been seen by a French explorer in India in the 1600s.
In the late 1800s, the Great Table was cut into two stones—the 190-carat Darya-i-noor and the 60-carat Noor-ul-ain, which is now the center stone in this tiara.
How Does One Marry a Shah, Anyway?
Well, first you have to look like this.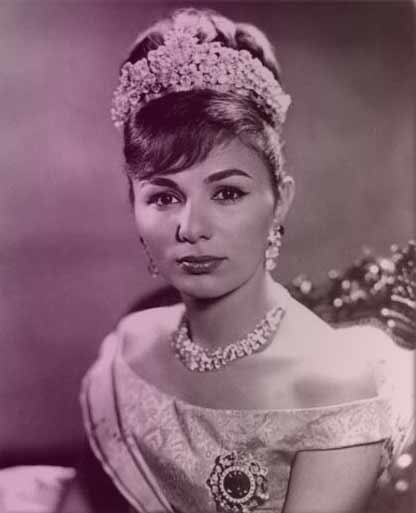 No way around it, folks: Farah is gorgeous. She came from a well-to-do family with good history. Her grandfather was the Persian ambassador to the Romanov court in Russia. She studied architecture in Paris, which sounds cool, but apparently involved quite a bit of racism and hazing. Here's what she said in her memoir:
That "find a husband" taunt is going to come back to haunt her a bit, because being at school is exactly how she met the Shah. He visited the Iranian embassy in Paris in 1959 and some of the Iranian students studying there were brought in to meet him, including Farah. That summer, when Farah went back to Iran after school, they began courting and the Shah put a ring on it that fall. They were married on December 20. Farah, just 21, wore a Yves Saint Laurent dress and this tiara, left unworn since the Shah's divorce from Soraya.
You know what I did when I came home from college after freshman year? Worked a shitty job in a western wear store. I kid you not. The morning after I got home, my dad marched me down to the EDD office and got me that job. I had no time to meet shahs or dignitaries. I had Wranglers to fold! But I digress.
#EmpressLife
You guys probably know the one thing a queen is expected to do – produce an heir. Despite the fact that he'd been married twice, the Shah had only one daughter. Farah was expected to give him a son and heir, since a woman couldn't inherit the throne under Iranian law. Farah fulfilled expectations and she and the Shah had four children, two boys and two girls.
But Farah was more than just a woman with a pretty face and functioning uterus.
She did shit, you guys.
She worked with 24 different cultural and educational organizations. She supported the Shiraz Arts Festival, showcasing Iranian and world performers in song, dance, and dramatic arts. She traveled within the country, visiting remote outposts, which is something previous queens hadn't done.
She founded a national trust and began to buy back many Iranian artworks and artifacts that had been sold off or dispersed to private collections and museums worldwide. That collection became the Tehran Museum of Contemporary Art, helped by Farah to buy works by Picasso, Monet, Warhol, Pollock, and more. Farah spent tens of millions of dollars in the 1970s to build up the museum's collection, worth almost $3 billion today. Of course, after the revolution, the Islamic Republic wasn't too keen on artwork that glorified the western tradition. They packed that shit up like at the end of Raiders of the Lost Ark. The collection hasn't been seen in full since – although most of it was put on temporary display in 2005, and then promptly packed up again.
Farah had enough respect and influence that the Shah even invested her with the power to rule if he died or was incapacitated before their son was old enough to take over – an unusual move for a Muslim royal.
What Happened to This Tiara?
Revolution, that's what. When the Shah and Farah fled the country in January of 1979, they left this tiara—the property of the state—behind. Luckily, the bulk of their jewelry collection remained intact, with remarkably few pieces stolen amidst the chaos.
Since the 1990s, this tiara and the rest of the crown jewels have been on public display at the Treasury of National Jewels inside the Central Bank of the Islamic Republic of Iran in Tehran. It's the largest set of state-owned jewels displayed in a single location. Since 1937, the jewels have also been used as collateral to back the national currency.
What Happened to Farah?
She racked up a lot of frequent flier miles, that's for sure. After fleeing Iran, she and the Shah first took refuge in Egypt. But the new government in Iran ordered their arrest and extradition, which put the Egyptian president in a super-awkward spot. The ex-royal couple were political hot potatoes and they knew it.
Tactfully, they left Egypt and bounced from Egypt to Morocco to the Bahamas to Mexico. In 1980, they came to America so the Shah could get medical treatment for lymphoma. But this really pissed off the new Iranian revolutionary government, who wondered if the U.S. and the Shah were working together. (Nope, just cancer, you paranoid jerks.) Anyhoo, they decided to send a message by taking over the American Embassy in Tehran. If you've seen the movie Argo, you know how that went down.
Because the U.S. really doesn't like people fucking with their embassies, they asked Farah and the Shah to leave. This time, they went to Panama, but after rumors spread that Panama was going to extradite them, they asked pretty-please-with-a-cherry-on-top if they could come back to Egypt. Farah herself made the request to the president's wife. They were accepted and the Shah died shortly afterward in Egypt in 1980.
So.
All's well that ends well, right? Sure, until the president of Egypt gets assassinated in 1981. Since an ex-empress is presumably a lot less politically dangerous than an ex-Shah, Ronald Reagan invited Farah and her kids to come to the U.S. and she took him up on his offer. She still lives here, part-time, in Washington, D.C.
In 2003, she published her memoirs, An Enduring Love: My Life with the Shah: A Memoir, if you're interested (affiliate link). She also has a website with lots of pictures, video, and updates on her travels.
How Would I Wear It?
You guys, this one makes me think of a Viking queen. It must be those colors of dawn and fire, and the slightly jagged shapes that make me think of a Viking's funeral pyre. My dad's side of the family is full Swedish, with some more Danish on my mom's side, so I have enough Scandinavian in me to make this feel right.
Strange as it seems, I'd wear this to a funeral. Bringing a thing of such strange beauty to a funeral seems like a good way to honor someone. It's like dressing up to go out on a date or for a job interview. Without saying anything, it's how you say everything. And if you bow your head to cry or pay your respects, everyone else gets a full-on face of your 60-carat pink diamond. That's a win/win.
That's Empress Farah's Noor-ul-Ain tiara!
Want to suggest a tiara? Drop its name or a photo link into the comments. I'll do my best to find something interesting in its history for a future Tiara Tuesday.
---
Image credits
Tiara: ACM83, public domain via Wikimedia Commons
Farah: Image by an unknown photographer, public domain via Wikimedia Commons
Farah and de Gaulle: Image by an unknown photographer, public domain via Wikimedia Commons
Affiliate disclosure:
I'm a participant in the Amazon Services LLC Associates Program, an affiliate advertising program designed to provide a means for sites to earn advertising fees by advertising and linking to Amazon.com. As an Amazon Associate, I earn from qualifying purchases. The link to Farah's biography is my Amazon affiliate link. If you choose to buy the book through this link, they'll throw me a few extra cents.
---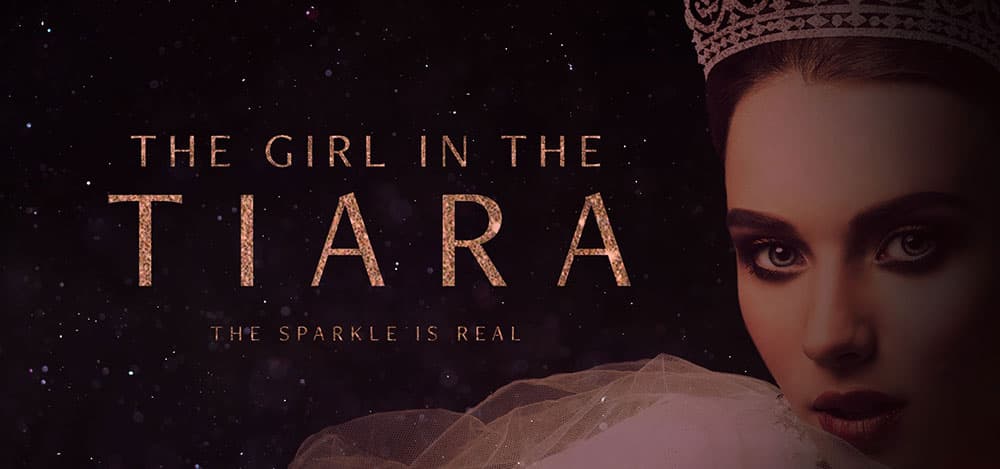 Love Royalty and Tiaras?
You might like my other site, The Girl in the Tiara. I created it to write about amazing royal women and their tiaras. It's like Drunk History meets The Crown.

Tiara Tuesday Archives
Visit the archives to read about more royal shenanigans. And by shenanigans, I mean war, revolution, betrayal, lust, murder, diamonds, and Princess Stéphanie's chafing dish.