Princess Fawzia of Egypt's tiara was commissioned from Van Cleef & Arpels by her parents, King Fuad I of Egypt and Queen Nazli. The occasion? Fawzia's 1939 wedding to Mohammad Reza Pahlavi, the Crown Prince (and later Shah) of Iran.
It came with a necklace and a pair of earrings, all set in platinum. The tiara features pear-shaped and baguette-cut diamonds in multiple rows arranged to look like a halo. The two rows of pear-shaped stones, 54 in all, weigh in at 92 carats. The 530 baguettes weigh in at 72 carats. The picture below shows Fawzia wearing the tiara, necklace, and earrings together. Doesn't she look like an Egyptian Vivien Leigh? Talk about drop-dead gorgeous.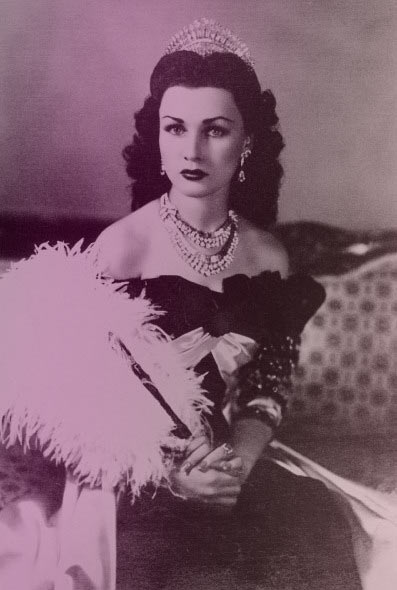 Fawzia's dynasty was of Albanian descent, according to Wikipedia. On her mother's side, she also had Turkish ancestry. Her great-great-grandfather was a French army officer who served under Napoleon and converted to Islam while in Egypt. While married to the Shah, she led the Association for the Protection of Pregnant Women and Children.
So It Was a Fairy-Tale Romance?
As is so often the case with tiaras, they didn't exactly prove love conquers all. Fawzia and the groom only met once before their wedding day – and Fawzia was only 17 years old when the wedding took place. Interestingly enough, the wedding represented politics trumping religion: Fawzia was Sunni and Pahlavi was Shia. Here they are at a wedding banquet at the Egyptian embassy in Tehran – Fawzia is in the first big sparly tiara on the left. Next to her are the shah, his wife (in her own big sparkly tiara), and her groom.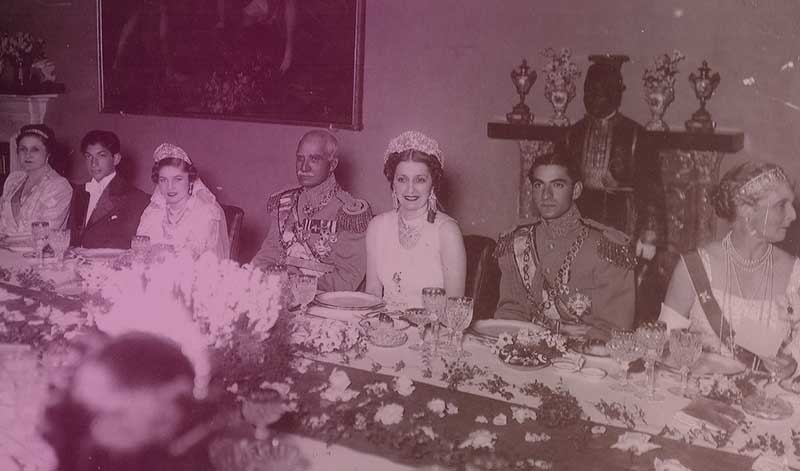 They had one daughter together, but Fawzia was so depressed that she eventually went back to Egypt for the sake of her health (she'd contracted malaria in Tehran). The condition of her leaving the country? Her daughter had to stay behind to be raised by the now-Shah. Fawzia got a divorce in 1948 and never returned to Iran. She remarried in Egypt, as did the Shah in Iran. Fawzia died in 2013.
Where Is This Tiara Now?
This one's going to take a bit of detective work. Here's the background: Fawzia brought it home to Egypt when she left Pahlavi, so it's not part of the Iranian crown jewels on display in the Central Bank of Tehran. The Egyptian royal family's jewels were confiscated after the monarchy fell in 1952. In 1986, the government opened a Royal Jewelry Museum in Alexandria to show off the former royal family's possessions.
Possibility #1: The tiara is in the Royal Jewelry Museum.
Possibility #2: The tiara was considered Fawzia's personal property, and it passed to one of her two living children after she died.
Possibility #3: The tiara was part of a recent cache of Egyptian royal jewels found in a safe deposit box in August 2014 and seized by the government. Turns out, a royal attendant put 246 pieces of jewelry in the Egyptian Bank after the revolution. Did she steal them? Did the royal family trust her to keep them safe? We don't know. I hate not knowing. In any case, these seized jewels will probably make their way to the Royal Jewelry Museum, so maybe we'll know someday.
How Would I Wear It?
I have a major weakness for pear-shaped diamonds. I'm not so fond of baguettes, and my hair isn't nearly as fluffy and lustrous as Fawzia's, so this tiara would probably look ridiculous on me. That being said, it would also reflect an assload of light. Since I live in the country where the power goes out quite a bit, I'd reach for this tiara next time the power blips. Light a few candles, sit in front of them with this tiara on, and boom. Light everywhere. You're your own damn PG&E plant.
Want to Suggest a Tiara?
Want to suggest a tiara? Drop its name or a photo link into the comments. I'll do my best to find something interesting in its history.
---
Image Credits
Fawzia: Image by an unknown photographer, public domain via Wikimedia Commons
Wedding banquet: Image by an unknown photographer, public domain via Wikimedia Commons
---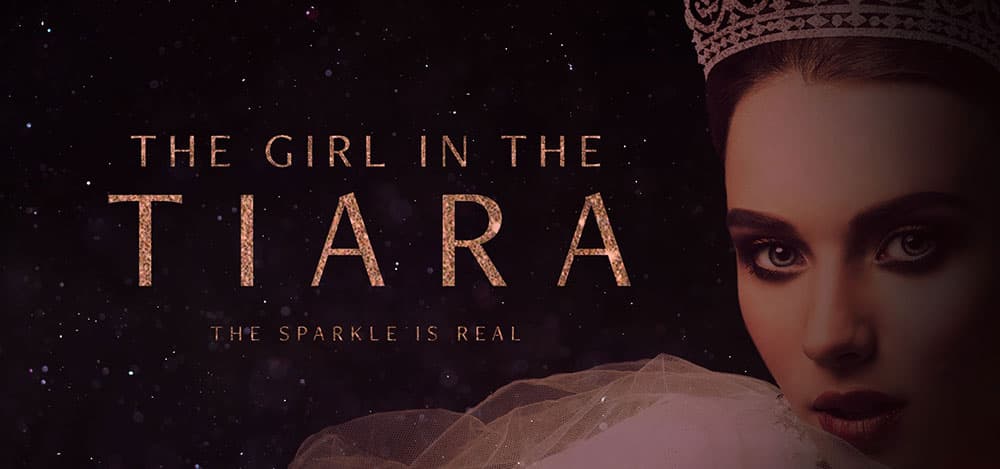 Love Royalty and Tiaras?
You might like my other site, The Girl in the Tiara. I created it to write about amazing royal women and their tiaras. It's like Drunk History meets The Crown.

Tiara Tuesday Archives
Visit the archives to read about more royal shenanigans. And by shenanigans, I mean war, revolution, betrayal, lust, murder, diamonds, and Princess Stéphanie's chafing dish.