Marie Louise of Bulgaria's tiara was, like so many others, a wedding present. In 1893, Prince Regnant Ferdinand of Bulgaria married Princess Marie Louise of Bourbon-Parma. As a present for the bride, the Bulgarian National Assembly commissioned this tiara from Austrian jeweler Kochert.
The stones match the colors of the Bulgarian flag: red, green, and white. That central ruby is from India, and it's a whopping 8 carats. The emerald beneath it is 7 carats. This tiara could also be broken up into a necklace and brooches. Here it is, in a painting by de László: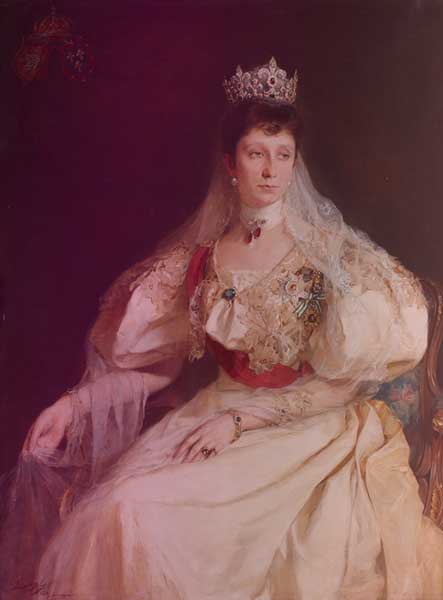 Ferdinand must have been feeling generous, because Marie Louise's other wedding presents included a pair of sapphire and diamond earrings that had been Marie Antoinette's. The marriage, however, was one of convenience. Ferdinand's mother hated Marie Louise, proving mother-in-law issues transcend space, time, and socio-economic boundaries.
Ferdinand's mother hated Marie Louise, proving mother-in-law issues transcend space, time, and socio-economic boundaries.
In 1896, Ferdinand decided to make nice with big, bad neighbor Russia by converting their son from Catholicism to Eastern Orthodoxy without telling Marie Louise.
The pope excommunicated Ferdinand, and Marie Louise freaked the fuck out. She ran home to Italy, but her father put his foot down and sent her back home because queens can't run away from shit they don't like. Marie Louise only survived three more years. She died in 1899 after giving birth to her fourth child.
So…Gimme the Dirt
Ferdinand was probably bisexual. He had a lot of heterosexual affairs and illegitimate children, but couldn't quite shake those rumors that he went to Capri for more than the stunning landscapes. (It was a known meetup spot for gay men at the time – sort of like the Castro in San Francisco). When other monarchs wanted favors from him, they came to see him with tall, blonde, blue-eyed male courtiers in tow and usually got what they wanted. Another random and interesting fact: he ordered a custom Mercedes that took three years to build – and was the first car ever built with an ashtray, by his special request.
But being the ruler of Bulgaria wasn't easy. The country was so hard to govern that his predecessor, Alexander of Battenberg, was forced to resign at gunpoint in 1886. The Bulgarians elected Ferdinand next because (a) no one else wanted the job, and (b) he had nothing better to do at the time. Most people thought Ferdinand was totally going to suck at this because, well, let's let Queen Victoria explain: "He is totally unfit…delicate, eccentric, and effeminate."
But somehow, Ferdinand managed not to suck. In 1908, he declared himself tsar, which is a hell of a lot more impressive than "Prince Regnant." In 1910, he became the first head of state to fly in an airplane. In WWI, however, he sided with the Axis powers in a bid to get more land. We all know how that shit ended, and he abdicated in 1918.
What Happened to the Tiara?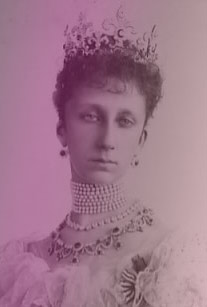 It stayed in the family…or did it? Ferdinand's second wife wore it. His son's wife, Giovanna of Italy, wore it. His grandson's wife, Margarita, wore it at her wedding. Click here to see her in it – it's worth it.
The last time it was seen that I could find was when Princess Marie Louise of Bulgaria (Ferdinand and Marie Louise's granddaughter) wore it to marry Karl of Leiningen in 1957.
Unfortunately, the rumor is that this tiara has been sold or broken up. No one has seen it in about 40 years. Ten years ago, the royal family refused to loan it to a Bulgarian museum for display – they said it's not in its original state anymore. Sounds cagey to me. Check out Marie Louise on the right, looking about as enthusiastic as I do when I ask the hubby what's on TV, and he says there is a fine evening of programming available on the Velocity channel.
How Would I Wear It?
Let's just overlook the obvious association with Christmas (red, green, gold). I love the fleurs de lys. If you clicked on the photo linked in the section above, you can see how freaking fantastic this looks…if you have a lot of hair. I don't have a lot of hair. Still, I think it's worth buying some Bumpits and testing a look like Margarita's in the photo.
But where? Read the bonus Nazi connection down below, and this will make more sense. I'd wear this tiara when I need to tell someone something they are not going to like. In the story below, Boris III (whose wife wore this tiara) did something courageous that may have cost him his life. If I knew I had to face an enemy, I want some of Boris's juju on my side. After all, the enemy he faced down was Hitler. Compared to that, all my enemies are as scary as marshmallow Peeps.
Bonus Nazi Connection
I feel like the Joker right now because I'm seriously going to say, "Wait 'till you get a load of this." Ferdinand and Marie Louise's son, Boris III, died under "mysterious circumstances" after a face-to-face visit with Hitler in August of 1943. That spring, Boris cancelled all orders to deport Bulgarian Jews. Some people online credit him, others say he only did it because his country was firmly against the deportation of Jews in the first place. I don't care whether he did it because of parliamentary pressure, pressure from the church, or any other kind of pressure – the point is that he did it.
Now, in August, he was summoned to Germany by Hitler for some face time. This is like being called to the principal's office – you know this isn't going to end well.
Hitler yelled at Boris for not deporting his country's Jews and ordered him to send Bulgarian troops to the eastern front – up to that point, Bulgaria had not declared war on Russia.
Boris told Hitler to suck it.
Boris told Hitler to suck it.
Two weeks later, back in Bulgaria, he died of heart failure – but his doctors said they thought he died from a poison that took a couple weeks to kill (something similar had already killed a Greek prime minister a few years earlier). The worst part is that no one can do any CSI shit because after the war, Communists stole his coffin – and to this day, no one knows where it is. When they opened up Boris's grave, all they found was a glass jar with his preserved heart.
However it happened, Bulgaria was the only country to save its Jewish population and Boris III was posthumously awarded the Jewish National Fund's Medal of the Legion of Honor. In all fairness, the record also shows that Boris handed over 11,000 Jews who lived in Macedonia and Thrace, but if the Jewish National Fund sees fit to award him a metal, I'm guessing they know what they're doing.
That's Marie Louise of Bulgaria's tiara!
Want to suggest a tiara? Drop it into the comments and I'll try to find something interesting about it for a future edition of Tiara Tuesday.
---
Image credits
Marie Louise, painting: Philip de László, public domain via Wikimedia Commons
Marie Louise, photo: Image by an unknown photographer, public domain via Wikimedia Commons
---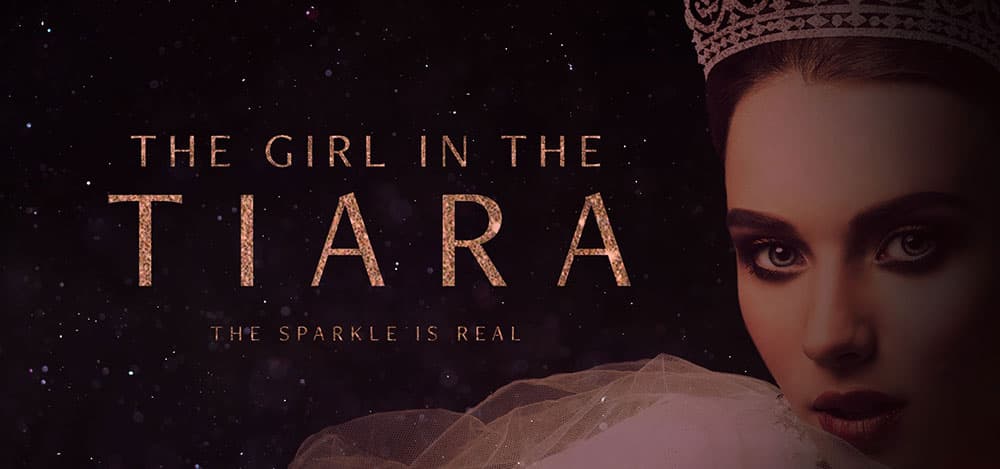 Love Royalty and Tiaras?
You might like my other site, The Girl in the Tiara. I created it to write about amazing royal women and their tiaras. It's like Drunk History meets The Crown.

Tiara Tuesday Archives
Visit the archives to read about more royal shenanigans. And by shenanigans, I mean war, revolution, betrayal, lust, murder, diamonds, and Princess Stéphanie's chafing dish.