Don't freak out, but technically Marie Louise's ruby diadem doesn't exist anymore. We'll get to why in a moment – but first, let's set the scene.
In 1810, Napoleon ordered this tiara for his second wife, Marie Louise of Austria (Marie Antoinette's niece). He understood that age-old saying, "Happy wife, happy life," so he ordered all new jewels for Marie Louise instead of trying to snatch back the ones he'd bought for Josephine.
In 1811, Nitot, the crown jeweler, delivered an entire matched set for Marie Louise that included this diadem of rubies and diamonds, a little crown, a comb, necklace, earrings, bracelets, and a belt. That added up to about 400 rubies and 6,000 diamonds. Napoleon had 99 problems, but paying for expensive shit wasn't one of them.
Marie Louise was painted wearing the tiara, crown, and earrings: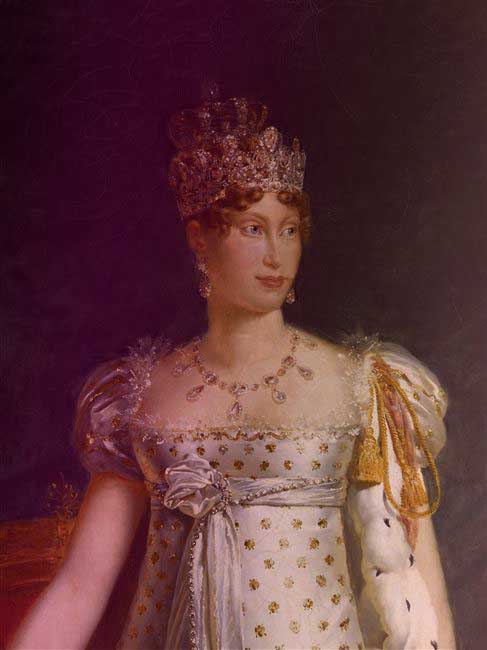 Need a better look at that tiara? No worries – jewelers Nitot & Fils (the precursor of Chaumet) created a replica:
What Happened to This Tiara?
After Napoleon's defeat, the Bourbon family reclaimed the throne of France. The new king, Louis XVIII, didn't want any reminders of Napoleon hanging around. He ordered Marie Louise's jewelry broken up and rearranged into new pieces. Much like Taylor Swift, Louis XVIII was determined to shake it off.
As you may have guessed, this means Marie Louise's tiara doesn't exist in the pictured form anymore. When I came across the replica shown above, I thought, "Holy hell, why haven't I seen this puppy before?" Turns out, I'd never seen it before because it doesn't freaking exist.
Turns out, I'd never seen it before because it doesn't freaking exist.
But by that point, I was hooked on the story.
In 1816, two jewelers took the original stones and reassembled them into a new parure, designed for the first lady of France. Louis XVIII was a widower, so his niece was the highest-ranking lady of the land. And who was that niece? None other than Marie-Thérèse, the Duchess of Angoulême, the oldest child (and only surviving offspring) of Marie Antoinette and Louis XVI. Here she is, wearing a different tiara. We don't have any images or paintings of anyone wearing the redesigned ruby tiara.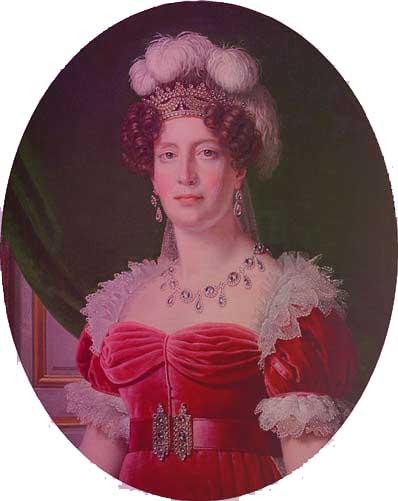 Look at that portrait. You can actually see Louis and Mare's features in her. It kind of creeps me out. You know what doesn't creep me out? The redesigned tiara she wore. It's freaking awesome.
Where Is This Tiara Now?
We're not sure. As mentioned above, the original tiara that had belonged to Marie Louise was remade into a new ruby tiara for Marie-Thérèse. That tiara was auctioned off by the French government in 1887, after the fall of Napoleon III. At that time, a "Mr. Hass" was the buyer. Less than a year later, it was sold to a "Mr. Bradley-Martin" of New York. His daughter, Cornelia, inherited the tiara. She married the Earl of Craven and died in 1961. Her jewels, including the remodeled ruby and diamond tiara, came up for auction at Sotheby's. We don't know who bought it.
What about the rest of the parure?
The bracelets are currently in the Louvre, but the rest of the pieces are anybody's guess. The rumor is that Stavros Niarchos has the tiara – and that it made an appearance at one of the Greek royal family weddings in the early '60s. Niarchos might have bought more than the tiara, it seems, because he gave a buttload of ruby and diamond jewelry to Princess Sophia of Greece when she married Juan Carlos of Spain in 1962. I've seen these pieces described as being made by Van Cleef & Arpels, but I'm wondering if Niarchos gave them some of the French royal stones? In any case, the tiara hasn't been seen and documented for nosy people like me since that auction.
How Would I Wear It?
Any French royal jewel comes with a lot of baggage. Bought for a murdered queen's niece and made over for the murdered queen's daughter – it's been there, done that, and bought the t-shirt. Some tiaras are delicate and you can wear them to do some light gardening or frolicking outdoors. Not this one.
It's big, it's probably heavy, and I'm getting a medieval vibe off it. The pointed Moorish arches on top, the crusader-cross elements beneath the spikes – this is the tiara you wear to do penitence or make a pilgrimage. This is what you wear when you're going somewhere bigger than you are, wherever you go to make peace with the universe. Maybe you're asking for help, or saying you're sorry. It doesn't matter. This tiara is going to back you up.
P.S. Do you say "Louis ex-vee-eye-eye-eye" in your head when you read "Louis XVIII," too? Please tell me I'm not the only one.
That's Marie Louise's ruby diadem!
Want to suggest a tiara? Drop its name or a photo link into the comments. I'll do my best to find something interesting in its history.
---
Image credits
Marie Louise, header image: François Gérard, public domain via Wikimedia Commons
Marie Louise in tiara: Jean-Baptiste Paulin Guérin, public domain via Wikimedia Commons
Marie-Thérèse: Alexandre-François Caminade, public domain via Wikimedia Commons
---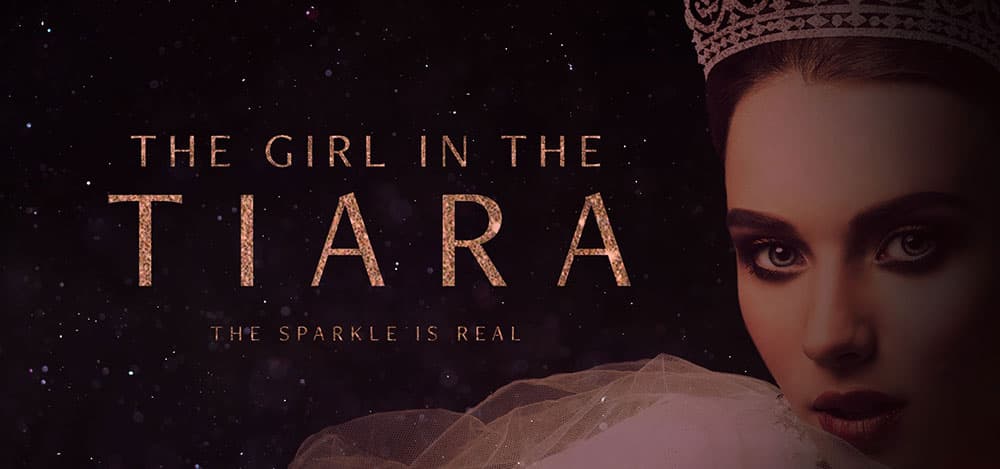 Love Royalty and Tiaras?
You might like my other site, The Girl in the Tiara. I created it to write about amazing royal women and their tiaras. It's like Drunk History meets The Crown.

Tiara Tuesday Archives
Visit the archives to read about more royal shenanigans. And by shenanigans, I mean war, revolution, betrayal, lust, murder, diamonds, and Princess Stéphanie's chafing dish.