I chose the Stuart tiara to wish the lovely Karen Conlin a happy birthday. Why? I mean, look at it. You have to be impressed, which is how I feel about Karen's work. If you haven't already, check out Grammargeddon.com. Let's all wish her a happy birthday…and then dig into the awesomeness that is the Stuart tiara.
This tiara belongs to the royal family of the Netherlands. See that honker in the top center? That's the Stuart diamond, an extremely rare rose-cut blue-green diamond weighing in at 39.75 carats. (There's a Getty image below where you'll get a much better look at it than we do here, on Wilhelmina.)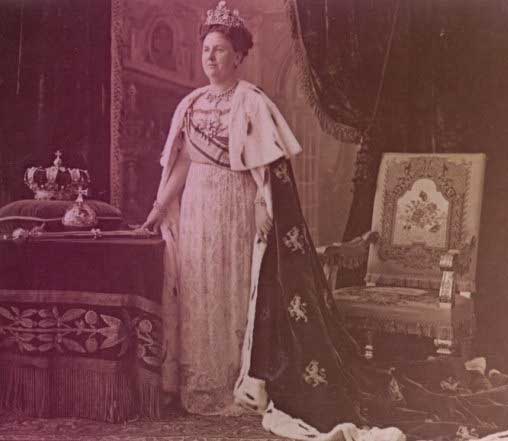 In 1897, Dowager Queen Emma ordered this tiara from German jeweler Eduard Schurmann & Co. Her 18-year-old daughter, Wilhelmina, was about to be invested as the new queen and Emma wanted to give her daughter something spectacular. This new tiara included 900 diamonds from other pieces of jewelry Emma chose to break up.
There's also a matching necklace and brooch.
Why?
Because sometimes you have too goddamn many diamonds laying around to cram them all into a tiara.
Duh.
So Tell Me about This Massive Diamond
The first documented owners of the diamond are William and Mary, co-rulers of England. Mary was a Stuart, daughter of James II and granddaughter of the beheaded Charles I. In 1690, William bought the stone as a present for Mary. They had it cut and set as the pendant in a brooch.
Poor Mary died at age 32 of smallpox. They had no kids, so William inherited everything. When William died in 1702, the diamond went back to his home country, the Netherlands, and was inherited by the next Prince of Orange. Mary's sister, Anne, inherited the throne of England and really wanted to get her mitts on this stone, but it didn't happen. By the time she filed a suit, William and the stone were long gone. Kids, let this be a lesson to you. Possession is 9/10 of the law…and the other 1/10 can only be accessed by a lawyer. When you need one, get one fast. This public service announcement has been brought to you by the wife of a first-year law student.
Where Is This Tiara Now?
Still in the possession of the Dutch royal family. Wilhelmina rarely wore it. There are plenty of pictures of her wearing a different honking tiara, but it's not the Stuart tiara. It's a tiara she got as a wedding present, seen below.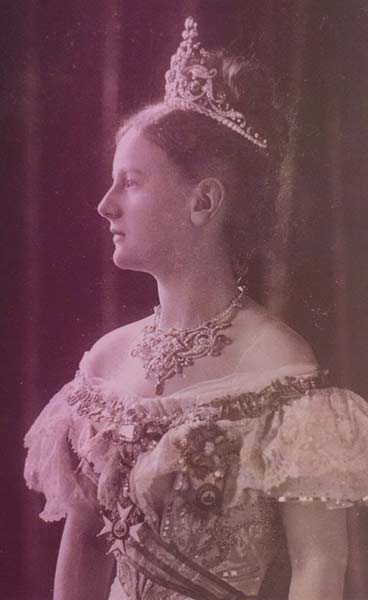 But Wilhelmina's daughter, Juliana, wore the living hell out of the Stuart tiara. She loved it. Juliana's daughter Beatrix was never seen in it. Until 2018, neither was Maxima (the present queen). Then she wore it to a state dinner in London at Buckingham Palace.
Prior to that 2018 appearance, there were rumors floating around that this tiara had gone to the jeweler to be remade in a more modern style. But now that it's been seen recently, we know Maxima was just waiting for the perfect occasion to dust this sucker off and make the rest of us drool.
How Would I Wear It?
Supposedly, Beatrix didn't wear this one because she has headaches and this tiara weighs a ton. I don't give a shit. That's what they invented Vicodin for, right? I'll pop a pill pre-event, any event, if I get to wear a tiara that looks like this. But I do have one particular event in mind.
So, I went to a party on Saturday night with the hubby. The purpose of the party was to watch the Barrett-Jackson car auction. I sat there mainlining ginger martinis while all the guys argued over whether each car had the right manifold. Personally, when I hear the word "manifold," I picture Jeeves finishing the laundry, but that's just me.
Personally, when I hear the word "manifold," I picture Jeeves finishing the laundry, but that's just me.
This auction was attended by people who seemed to think it's perfectly natural to pay $150,000 for a late-model Shelby Mustang you can get at Carmax. I kid you not. I learned that there are a lot of stupid people out there with a lot of money to burn.
I would wear this tiara to attend said auction. I would bid on all the cars, using the Stuart diamond as collateral. I would win. Then I'd announce my plans to paint them all pink and sparkly to match my nail polish (except for the cars I don't like – I'd probably just blow those up). Then I'd let the second-place bidders offer to buy the cars back, with a 10% finder's fee. Then I'd go shopping for a new tiara.
P.S. Other interesting stones in Mary Stuart's jewelry collection:
The single baroque pearl drop earring her grandfather, Charles I, wore to his execution.
The Little Sancy diamond, which had once belonged to Marie de Medici, Queen of France (her great-grandmother).
That's

the Stuart tiara!

Want to suggest a tiara? Drop its name or a photo link into the comments. I'll do my best to find something interesting in its history.
---
Image credits
Wilhelmina, header image: George Grantham Bain collection of the Library of Congress via Wikimedia Commons
Wilhelmina in tiara: Antoglonet, CC BY-SA 3.0 via Wikimedia Commons
Young Wilhelmina: Unknown photographer, public domain via Wikimedia Commons
---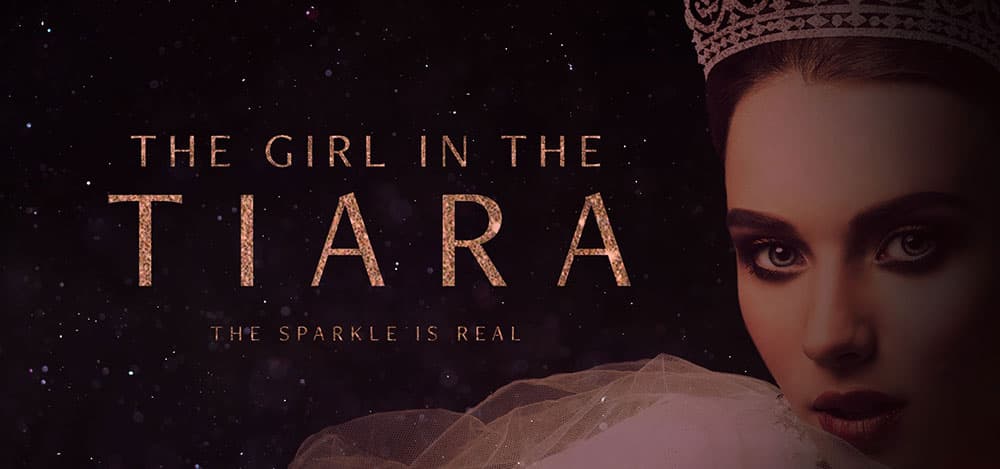 Love Royalty and Tiaras?
You might like my other site, The Girl in the Tiara. I created it to write about amazing royal women and their tiaras. It's like Drunk History meets The Crown.

Tiara Tuesday Archives
Visit the archives to read about more royal shenanigans. And by shenanigans, I mean war, revolution, betrayal, lust, murder, diamonds, and Princess Stéphanie's chafing dish.