Princess Helena Victoria's tiara is a diamond neo-classical tiara decorated with a central honeysuckle motif and eighteen graduated ribbon scrolls. Helena was a granddaughter of Queen Victoria, born a princess of Schleswig-Holstein (say that five times fast). She never married, which is when most royal women receive their tiaras, so she probably inherited this one from her mother, also conveniently named Princess Helena (third daughter of Queen Victoria).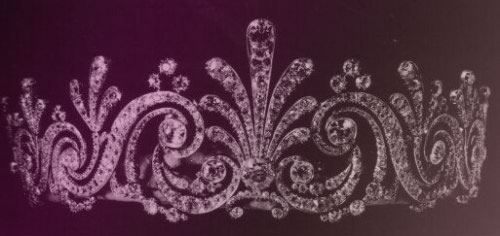 Meet Thora
Helena Victoria, called "Thora," grew up in England. She and her sister, Marie Louise, loved playing tennis. There's a story Marie Louise told about asking Queen Victoria if she and Thora could play tennis on a Sunday. Victoria said yes, but only if they collected their own balls, since it wasn't right to make someone else work on a Sunday just so they could have fun. Later in life, Thora often presented the trophies to the winners at Wimbledon. She also had a pretty mean golf swing, from what I read.
When Thora reached marriageable age, her busybody aunts and grandmother tried to hook her up with her cousin, the future King George V.
But George's mother, the Princess of Wales, wouldn't have it. Thora's father and her father were enemies in a territorial dispute. The Princess of Wales called Thora "Snipe" because of her sharp features, and put the kibosh on the whole thing. I don't think she had sharp features at all. I think she was absolutely beautiful.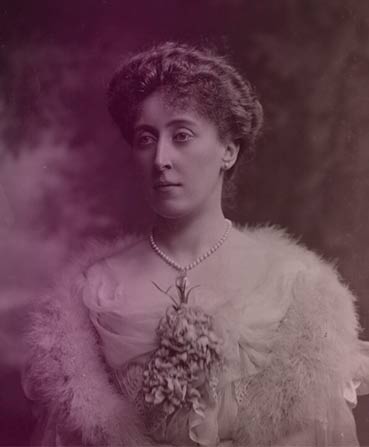 It was all pretty embarrassing, and the best her family could do after that was try to hook her up with a couple of random German princelings. But there were always problems. Either the guy didn't like her, or the question of religion (Catholic/Protestant) made the liking moot. After she turned 30, it was assumed she'd stay a spinster and the awkward hook-up attempts went away.
She probably inherited this tiara when her mother died in 1923. She wore it to the 1937 coronation of George VI. Click here to see a photo of her in it. I think she looks fantastically regal and anyone who didn't marry her missed out or just couldn't handle the fact that she could kick their ass on the driving range.
Anyone who didn't marry her missed out or just couldn't handle the fact that she could kick their ass on the driving range.
Who Inherited the Tiara?
When Thora passed away in 1948, her younger sister, Princess Marie Louise, inherited the tiara. Marie Louise was also unlucky in love, but for a very different reason than her big sister.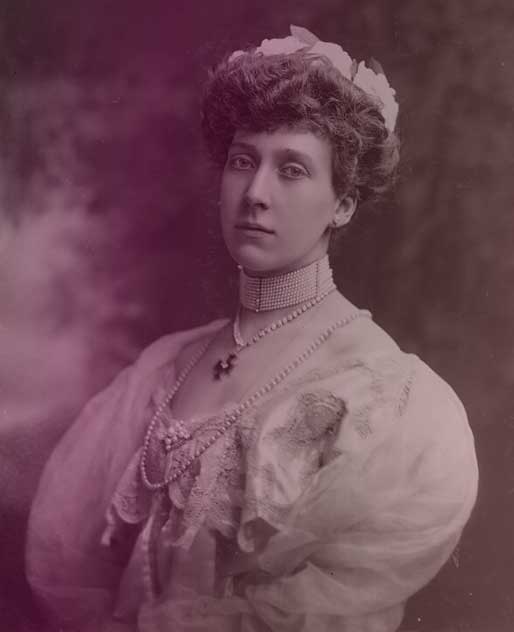 And You Thought Your Love Life Sucked
Marie Louise married Prince Aribert of Anhalt in 1891 for two reasons: (1) she'd met him once and he was hot, so what could go wrong? and (2) her cousin, Kaiser Wilhelm, said he'd hook her up. Wilhelm must have been warming up for World War I, because this marriage was as dumb as an alliance with the crumbling and clueless Austro-Hungarian empire.
Once they settled in Germany, Aribert blew through all her dowry money and hung out with his cavalry soldiers almost exclusively. Eighteen-year-old Marie Louise was alone, broke, and friendless in a new court with such stifling rules that she wasn't allowed to leave her own bedroom without the right number of servants.
Gossips say that Prince Aribert was eventually caught in bed with a male servant, either by Marie Louise or by his own father. Aribert freaked the fuck out and blamed Marie Louise for everything. "Ain't nobody got time for that," said Marie Louise, who took off to Canada for a little R&R.
While she was gone, Aribert got his father, the Duke of Anhalt, to annul their marriage on the grounds that she had given him no children. That shit is apparently legal there.
Once Queen Victoria heard the news, she ordered the Duke of Anhalt to send Marie Louise home to her family at once. In those days, you didn't argue with a telegram signed V.R. (Victoria Regina). Marie Louise's uncle, Edward VII, said, "Ach, poor Louise, she has returned as she went – a virgin."
Marie Louise never tried to remarry, because (a) the first time went so well, and (b) the Church of England does not recognize childlessness as a reason for annulment, so in her eyes, she remained married to Aribert.
Years later, she joked about her situation with George V and Queen Mary. George said it was actually a good thing she got kicked out of Germany, otherwise she'd have been stuck there during World War I. Marie Louise said hell to the no, she would have run home to England regardless. George joked that if she had, he would have had to intern her. Marie Louise replied, "That would have been infinitely preferable to remaining in Germany."
You know shit has gone wrong in your life when being in a POW camp sounds like an upgrade. The moral of this story is never let the kaiser set you up on a date.
Where Is This Tiara Now?
Unfortunately, we don't know. Marie Louise died in 1956 (click here to watch a short newsreel about her funeral – thanks to the comment below from Lloyd, I now know those are the Pearly Kings and Queens from London's East End!). Because she had no kids, the tiara passed to her cousin, Lady Patricia Ramsay (born Princess Patricia of Connaught).
When Patricia died in 1974, the tiara was sold at Christie's for £12,000 ($28,800) to an unknown buyer who was not me, mostly because I wasn't alive yet. The tiara hasn't been seen since, so whoever bought either broke it up or keeps it on a short leash.
How Would I Wear It?
Because neither of these ladies had any luck in love, this tiara needs to support girl power. Sister power. I'd wear it to go on a girl's night out, or maybe a girl's day out, where we do all the things that Helena Victoria and Marie Louise liked to do: play golf (mini golf for me), tennis (I don't even like tennis), or ride bikes (I mostly fall off). I love the way both of these ladies found ways to have fun and support their beloved home country of England, even though their personal lives went to hell in a handbasket. They both did charity work, supported arts and music, and volunteered as nurses during wars.
Also, as a grown woman with no kids (and no plans for kids), I love the fact that they led full lives alone. When you have fulfilling work to do, family members who care about you, and tiaras like this, life seems full, indeed. Here's a picture of Marie Louise at a kid's tea party, held in honor of George V's coronation in 1937 – she's the lady in black, pouring the tea. How cool is that? If anyone ever gave her crap about her failed marriage, I imagine her saying, "I am a granddaughter of Queen Victoria. You think some punk-ass dipshit from Nowheresville, Germany is gonna get me down? Bitch, please. Now where is my driver? I'm late for tennis."
Stay tuned for another post tomorrow where I reveal each sister's Romanov connection. Yes, they're there, and yes, they're pretty interesting. See you Wednesday, folks.
That's Princess Helena Victoria's tiara!
Want to suggest a tiara? Drop its name or a photo link into the comments. I'll do my best to find something interesting in its history for a future Tiara Tuesday post.
---
Image credits
Tiara: Christie's
Helena Victoria: James Lafayette, public domain via Wikimedia Commons
Marie Louise: James Lafayette, public domain via Wikimedia Commons
---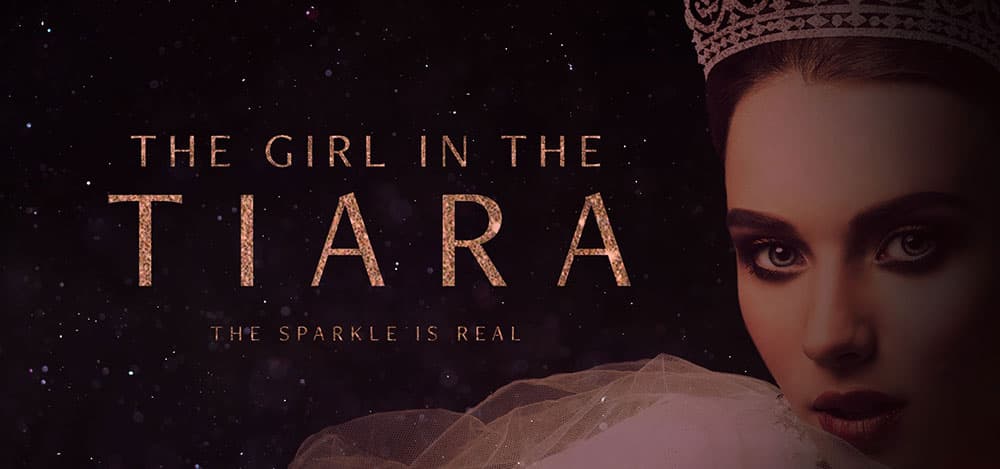 Love Royalty and Tiaras?
You might like my other site, The Girl in the Tiara. I created it to write about amazing royal women and their tiaras. It's like Drunk History meets The Crown.

Tiara Tuesday Archives
Visit the archives to read about more royal shenanigans. And by shenanigans, I mean war, revolution, betrayal, lust, murder, diamonds, and Princess Stéphanie's chafing dish.