Created by court jeweler August Heinrich Kuhn, the Württemberg diamond diadem was presented to Queen Pauline in 1820, the year of her marriage to first cousin King William I of Württemberg.
William was a pretty frugal guy. He transferred some of the diamonds from the Württemberg state crown to help fill this diadem. Generous or cheap? You make the call. That's Pauline wearing the diadem in the portrait below. She looks like she might have just found out about the whole recycling diamonds thing.
Happy Wife, Happy Life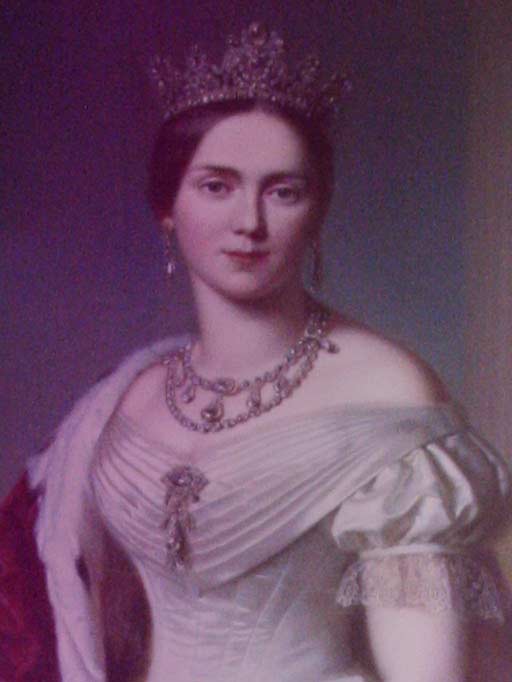 William didn't exactly master that concept. Pauline was William's third wife, but the third time wasn't a charm for old William here. Let's take a brief tour of William's wives, shall we? He married his first wife, a princess of Bavaria, in a hurry so he wouldn't be forced to marry a relative of Napoleon's or a puppet princess from Napoleon's newly created kingdom of Westphalia. The princess waited until Napoleon fell, divorced William's ass, and went on to become Empress of Austria.
Right on, sister.
William cheated on his second wife, a Russian princess, and she was the one he supposedly actually loved. She had two children in three years and then died of pneumonia, leaving William in need of another wife.
His third marriage, to Pauline, was cold and distant. He apparently preferred the company of his mistress, an actress named Amalia Stubenrauch. William and Pauline did have three kids together, and Pauline served admirably as a stepmother to William's two daughters.
I have to say, William seems like a dick in his personal life.
I have to say, William seems like a dick in his personal life. Pauline put up with his mistress, had three kids with him, helped raise his other kids, and what did she get for it? He left her out of his will, blocking any claim she had to money or property. She had the last laugh, though, because she outlived him and moved to Switzerland after he died. The people of Württemburg knew better, too – they recognized her work for the poor and several roads and landmarks in Stuttgart are named after her.
What Happened to This Tiara?
It stayed in the family for quite awhile. One of Pauline's successors as Queen of Württemberg, Charlotte, wore it in the 19th century.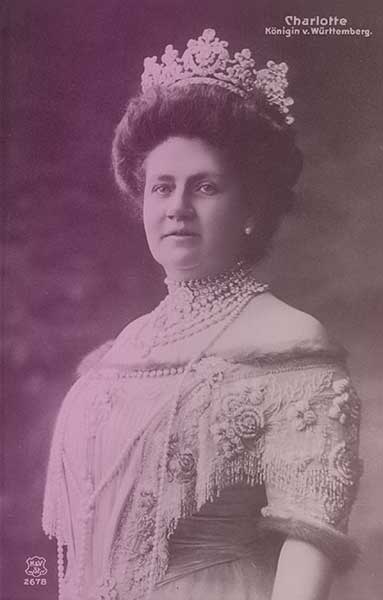 But when the kingdom of Württemberg was dissolved after World War I, the royal family and the state split the jewels among them. This diadem went to the state. If you're ever in Stuttgart, you can visit the Landesmuseum and see this tiara, along with the crown.
How Would I Wear It?
That central element keeps reminding me of a heart, which makes me think Valentine's Day. But the story attached to the tiara is SO NOT happily ever after, that I'd feel wrong wearing this on any occasion meant to represent love, fidelity, togetherness, happiness, etc.
You know what? I think I'm taking this one in the opposite direction. I want to wear this one to a dive bar to sing karaoke country songs about cheaters. Let's see…we've got:
Your Cheating Heart, Hank Williams
She's Actin' Single, I'm Drinkin' Doubles, Gary Stewart
The Thunder Rolls, Garth Brooks
Blame It on Your Heart, Patty Loveless
Whose Bed Have Your Boots Been Under, Shania Twain
Before He Cheats, Carrie Underwood
Cheatin', Sara Evans
…and that's just off the top of my head. I'd like to think that Pauline would appreciate the acknowledgement from a girl who knows what she went through (thanks to a dirtbag of an ex-boyfriend 15 years ago). Pauline, the next time I'm in a dive bar and any one of these songs plays on the jukebox, I'll raise a glass in your honor. Unless of course the ex happens to also be in that bar, in which case, a bit more than a glass might be raised. Cheers, y'all.
That's

the Württemberg diamond diadem!

Want to suggest a tiara? Drop its name or a photo link into the comments. I'll do my best to find something interesting in its history.
---
Image credits
Tiara: Württemberg State Museum, CC BY-NC-SA 3.0 DE
Pauline: Georg Friedrich Erhardt (1825-1881), public domain via Wikimedia Commons
Charlotte: the wonderful Grand Ladies site (if you've never been here, you're missing out)
---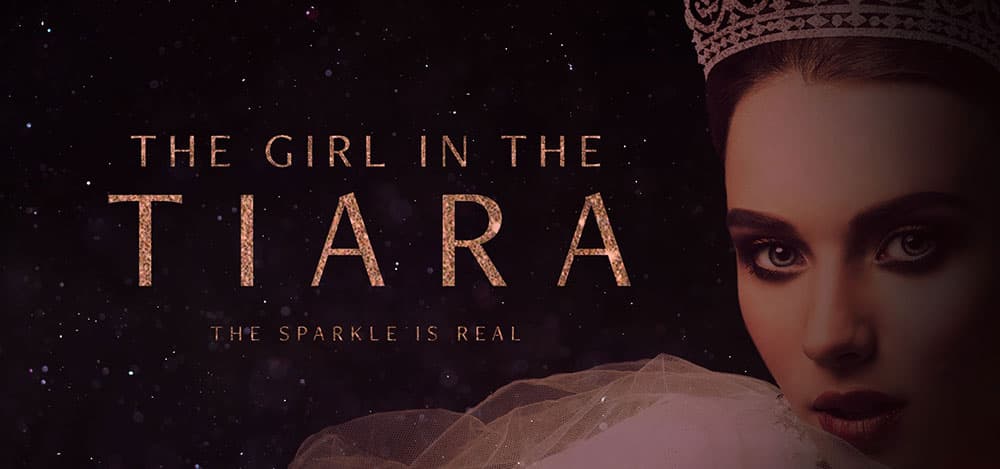 Love Royalty and Tiaras?
You might like my other site, The Girl in the Tiara. I created it to write about amazing royal women and their tiaras. It's like Drunk History meets The Crown.

Tiara Tuesday Archives
Visit the archives to read about more royal shenanigans. And by shenanigans, I mean war, revolution, betrayal, lust, murder, diamonds, and Princess Stéphanie's chafing dish.