Museums have a tough job – they have to engage the mind of the knowledgeable visitor and entertain or stimulate that of the ignorant.
On a recent trip to L.A., the hubby and I visited the Petersen Automotive Museum. Visiting car and motorsport museums is something you have to do when you marry someone who loves cars as much as P. does. We've been to the Barber Motorsports Museum in Birmingham, Alabama, the Blackhawk Automotive Museum in Danville, California, and taken trips to the trinity of NorCal racing venues (Laguna Seca, Sonoma, and Thunderhill). We've been to a ton of car shows, Autorama at Cal Expo, and a handful of autocross events.
Truth be told, I don't give a crap about cars – but I can usually find ways to enjoy myself at these places. I think about which cars my characters would drive. I do my best to appreciate the cars' historic context, color, line, and design. I fangirl over cars famous people drove. I'm still drooling over Aly Khan's purple Maserati at the Blackhawk museum.
But something went wrong at the Petersen museum.
Before I explain what that was, let me show you a bit about how P. and I view cars and museums: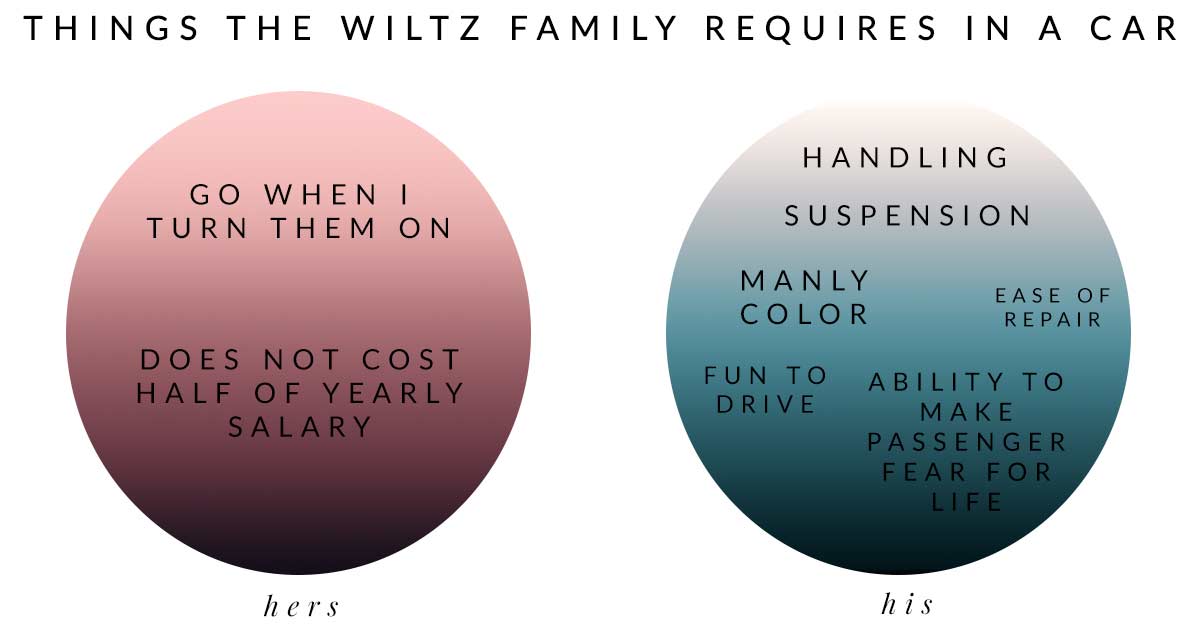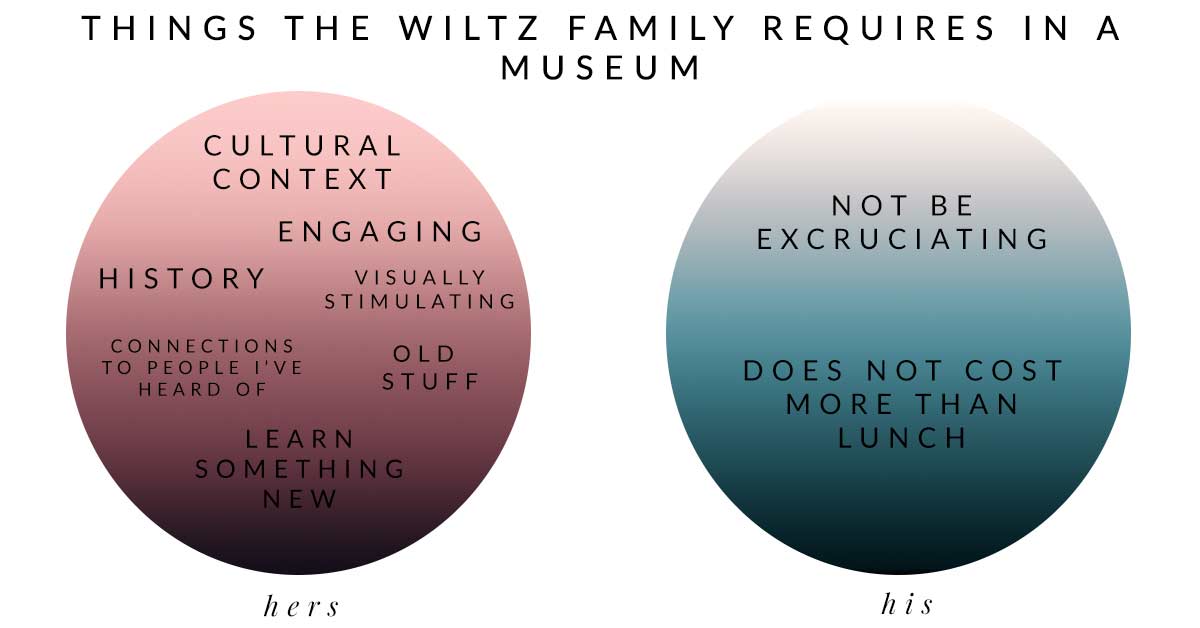 Obviously, we have different needs. Let's see how the Petersen stacked up.
The Experience for a Car Lover
P. loves cars. He loves cars the way I love history and royalty – with no warning, no reason, and no hope for recovery. It's ingrained at the DNA level. Like anyone who loves cars, he wants to see how they work. He wants to look under the hood. Under the frame, too, to see how the suspension and exhaust are fitted. Guess what? You can't do either at the Petersen.
We paid the standard admission fee, which let us view cars on three floors. Not one of the cars had its hood up. I've been to my share of car shows and I can tell you that real car guys want to see more than paint and chrome. They want to see the engine, the carburetor or lack thereof, the cooling system, and a bunch of other stuff P. can talk about for hours. That shit is off limits at the Petersen.
They make it really hard to see the underside of the cars, too. Most of them are mounted on raised rectangular platforms, quite a bit larger than the cars themselves. If Ikea sold a serving tray for a car, these would be it. Take a look:

You aren't allowed to touch these platforms. To glance under the car, you have to get on the floor and crane your neck – and you still won't see much because the angle makes it nearly impossible. If you put your hand on the edge of the platform to see an inch further, a suited security guard will come and tell you not to. (Yes, this happened to P.) In all fairness to the Petersen, there are signs on every platform telling you not to touch or sit on it. In all fairness to everyone who loves cars, are you kidding me?
So, to recap, you're presenting mechanically significant cars to practitioners and aficionados…and then hiding the mechanics. I suck at analogies, but I'm guessing this is like having a museum of Playboy bunnies and dressing them in opaque high-necked Victorian nightgowns. You should still be happy, though, because you get to see their faces and hair. That's how this museum felt.
I'm guessing this is like having a museum of Playboy bunnies and dressing them in opaque high-necked Victorian nightgowns.
The Experience for a Non-Car Lover
If the Petersen failed to give P. what he wanted, how about me? Could it do anything to alleviate the dull prospect of being dragged through three floors of cars?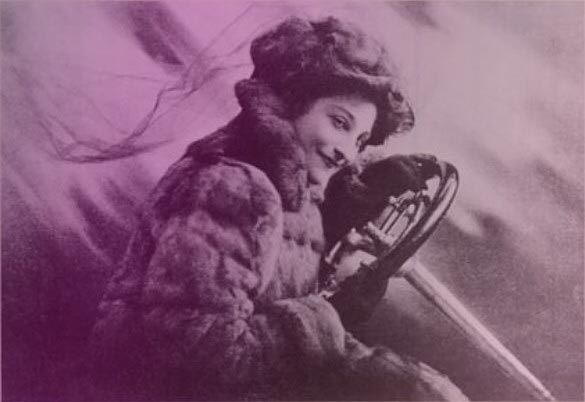 Well…there was one display I loved, and it had to do with driving clothes of the 20s. The display had vintage Vogue covers showcasing the latest in driving outfits, with actual driving coats and gloves from the time. I perked up at that display. This photo wasn't part of the exhibit. I just couldn't resist it because women used to wear veils and fur coats to drive and I kind of wish that was still a thing.
But remember those platforms that the cars are mounted on? They raise a lot of the big, older sedans from the 30s and 40s high enough above my eye level so that I had to stand on tiptoe to see the gearshifts. This wasn't the case for every car, but being a history nut, those big sedans from the pre-WWII era are most interesting to me. Between the platform and the dim lighting, I had a hard time seeing any of the interior at all. A little of the dash. A little of the custom luggage in the back. But the woodwork and trim on the center console? Nope. The inside of the doors? Nope. The floor? Not a chance.
I'm allowed to appreciate the shit out of the paint and chrome, though. This seems fitting for L.A.
In a place devoted to film – where things aren't real and depend on artifice and the suspension of disbelief – I'm presented with glossy exteriors and expected not to notice that the guts of the thing are off limits.
If you're wondering, here's what that glossy exterior looks like. It's like someone ran a Staples logo through a paper shredder and then tried to make art out of it. Granted, I am not the target audience for cars or modern art, so YMMV.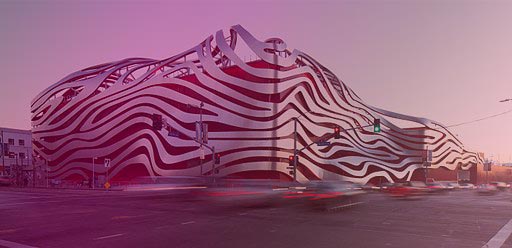 Ken Block, Donks, and B-Roll
As I judged it, the two exhibits that drew the most attention were:
The movie cars (this actually got people talking, asking each other if they'd seen the shows or films referenced) and
The Ken Block exhibit, which featured one of his gymkhana cars and a monitor playing one of his insanely popular YouTube videos. The problem was no one was really looking at the car. They were all watching the video. You don't need to pay $15 to watch a YouTube video, though. Just go to YouTube and click, like 17 million people did for his latest video.
On a neglected wall facing Block's car was a fantastic graphic.
Laid out in grid style, it was a field guide to types of car mods. You know the names: low riders, hooptys, donks, etc. This amused me more than anything else except the future shah's car, but it was wasted – it was facing Ken Block's car, not the pink street rod on the other side of the wall. Also, they had no pictures or film clips of these car types, let alone examples. Why not? Why miss the chance to make car culture relevant and identifiable to someone like me, who doesn't otherwise give a crap?
The whole museum felt this way to me. No heart, just a cold surface. A mortician's table. It kept you at arm's length. There was no sense of how people interact with cars. It was just about how they look.
The whole museum felt this way to me. No heart, just a cold surface. A mortician's table. It kept you at arm's length. There was no sense of how people interact with cars. It was just about how they look.
Here's another example, using the exhibit "Howlin': Vehicles from the Nearburg Collection." This was a room of race cars mostly from the 60s and 70s. A film played every 10 minutes or so, projected on the white walls of the room. As far as I could tell, it was a homage to professional racing in that era – spliced clips of races, smoking tires, grandstands full of smiling spectators who really needed some SPF.
It wasn't about a specific race.
Or car.
Or driver.
Let alone one of the cars on display.
Given a supply of public domain footage and an afternoon with Adobe Premiere Pro, I could probably have assembled something similar.
Did no one have footage of one of the cars actually on display? If the film did have that, I wish they would have pointed it out. Or interviewed someone who'd raced one of these cars. Make it real – tell me what it felt like to drive one. Instead, all you get is a generic movie trailer of a film meant to get you excited about…the fact that car racing exists, I guess. I kept looking for context and connection that never appeared.
Aside from the field guide to car mods, the most interesting thing I saw was the 1939 Bugatti gifted to Mohammed Reza Pahlavi, the future shah of Iran. The French government gave it to him as a wedding present. The license plate was in Arabic. Because of my interest in tiaras, I knew that first marriage was to Princess Fawzia of Egypt. I wrote about her gorgeous Van Cleef & Arpels tiara here. Fawzia was gorgeous, an Egyptian Vivien Leigh. There was no mention of her, let alone a photo. Did she ever drive the car or ride in it? I don't know. They didn't say. To be fair, that's probably beyond the scope of this museum. But come on…throw me a bone. Here's the tiara, in case you wondered what it looks like.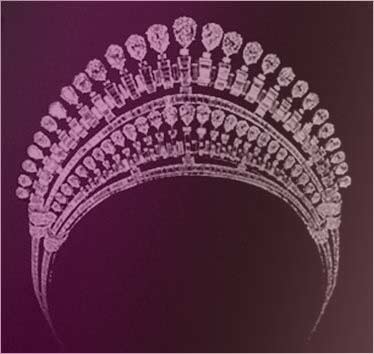 Museums Are Hard
Museums have such a hard job. The exhibits need to be planned with the same attention to detail I put into a book, or that advertising firms put into their customer profiles and marketing funnels. They need to satisfy their core audience – the ones who say to their spouses, "I've always wanted to go there." But maybe the harder task is reaching the spouse who grudgingly says, "Okay, let's go." Can they find a way to make the subject real and visceral? To make it matter? To illuminate a connection that might have been there all along but remained undiscovered?
Good museums do the former. Great museums do the former and the latter.
---
Image Credits
Petersen Automotive Museum: By David Zaitz (Own work) [CC BY-SA 4.0 (http://creativecommons.org/licenses/by-sa/4.0)], via Wikimedia Commons
Precious Metals Gallery: By David Zaitz (Own work) [CC BY-SA 4.0 (http://creativecommons.org/licenses/by-sa/4.0)], via Wikimedia Commons
Dorothy Levitt: By Dorothy Levitt / Autodidactyl at en.wikipedia (The Woman and the Car) [Public domain], via Wikimedia Commons
---
More Scintillating Posts