The Hessian turquoise and moonstone tiara was purchased in 1906 by Grand Duke Ernst Louis of Hesse as a Christmas present for his second wife, Princess Eleonore of Solms-Hohensolhms-Lich. Although it was made in Russia, we don't know by whom (some sources say Cartier, others say a competitor of Faberge).
This tiara's stones have special meanings: diamonds for eternity, turquoise for true love, and moonstones for innocence, all set in platinum. Ernie needed a little luck in love. His first wife, Victoria Melita, abandoned him and their daughter to marry a Russian grand duke. Bitch. His second wife, Eleonore, cataloged her jewelry, and her notes refer to this tiara as "firmamentstein," which means "stone of the sky" in German. That's pretty awesome.
Pictures of this puppy are hard to come by, so here's the official view from Hessisches Staatsarchiv: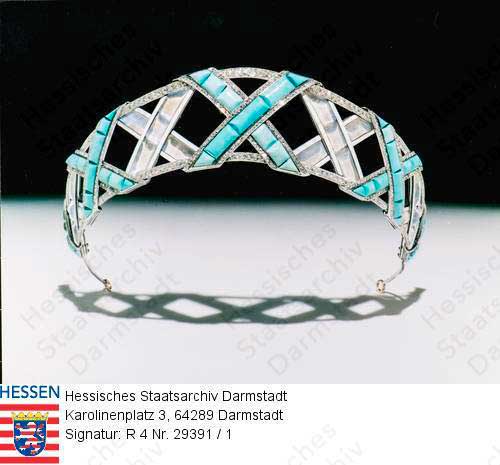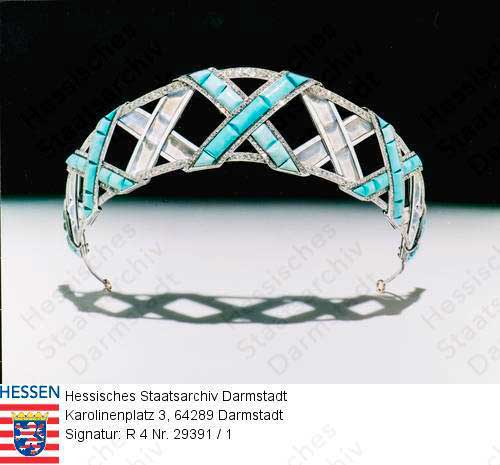 So There's No Tragic Ending, Right?
Wrong.
Ernie and Eleonore were happy, but the story gets a hell of a lot darker after that.
Ernie died in 1937, just before their son was scheduled to marry Miss Margaret Geddes in England. Since the show had to go on, the rest of the family boarded a plane for England. Eleonore, her other son George, George's eight-months-pregnant wife Cecile, and George and Cecile's two kids were on board. Eleonore packed this tiara in a strongbox – it was her wedding present for her new daughter-in-law.
Somewhere over Belgium, Cecile went into labor. The pilot attempted an emergency landing while in dense fog with less than 20 feet of visibility.
The pilot attempted an emergency landing while in dense fog with less than 20 feet of visibility.
He couldn't make it. The plane slammed into a factory chimney and everyone aboard was killed. Cecile's newborn baby's body was found in the wreckage, along with a metal strongbox – the only thing to survive the crash intact. Inside the strongbox was this tiara.
Do you have goosebumps now? I do.
Is That Family Cursed, or What?
Possibly. The Hesse family did believe they inherited some sort of curse. That shit might be legit. Check it out:
Grand Duchess Alice of Hesse? Dies of diphtheria weeks after she's unable to save her youngest child from the disease.
Prince Friedrich of Hesse? Falls out a window and dies at age two.
Princess Elizabeth of Hesse? Murdered by Bolsheviks during the Russian Revolution.
Princess Alexandra of Hesse? Murdered by Bolsheviks during the Russian Revolution.
Princess Elizabeth of Hesse (Ernie's daughter)? Abandoned by mother, died of typhoid at age eight.
Princess Johanna of Hesse? Parents die in plane crash, dies of meningitis at age two.
Prince Maurice of Battenberg, a Hessian cousin? Killed in World War I.
Earl Mountbatten, a Hessian cousin? Blown up by the IRA in 1979.
Where Is This Tiara Now?
For once, we actually know. The tiara survived the plane crash and made its way to the intended recipient, Margaret Geddes (known as "Princess Peg of Hesse"). She wore the tiara during her lifetime, including to Queen Elizabeth's 60th birthday party in 1986.
Margaret died childless in 1997. The tiara passed to Susan, the wife of Baron Euan Geddes (Margaret's nephew). Susan wore the tiara to the State Opening of Parliament in 2013. You can just see it in the lower right hand corner of the image below:
How Would I Wear It?
I have to say, this one's growing on me. The tragic story helps, too. After surviving that vicious crash, the tiara and its owners deserve a little happiness. To help rekindle this tiara's good karma, I'd wear it to help someone. Volunteering at a shelter, helping old people cross the street, tutoring kids who need extra help with reading or writing…anything that racks up brownie points that I could transfer to the tiara itself. It's not so big or gaudy that you couldn't wear it casually, either – the shades of turquoise and moonstone would blend well with denim. Give me a few years with this thing and I'd be curse, shmurse.
That's

the Hessian turquoise and moonstone tiara!

Want to suggest a tiara? Drop its name or a photo link into the comments. I'll do my best to find something interesting in its history.
---
Image Credits
Eleonore: Philip de László, public domain via Wikimedia Commons
Tiara: Hessisches Staatsarchiv Darmstadt
---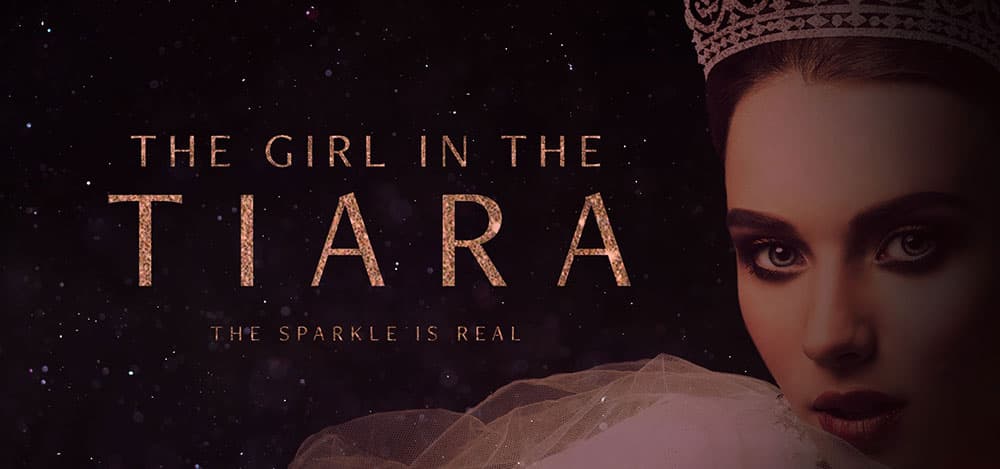 Love Royalty and Tiaras?
You might like my other site, The Girl in the Tiara. I created it to write about amazing royal women and their tiaras. It's like Drunk History meets The Crown.

Tiara Tuesday Archives
Visit the archives to read about more royal shenanigans. And by shenanigans, I mean war, revolution, betrayal, lust, murder, diamonds, and Princess Stéphanie's chafing dish.