Marie Feodorovna's wave tiara may or may not have been made by Cartier – some sources say it was, but I can't confirm it. As you can tell by the name, it belonged to the empress of Russia, wife of Alexander III.
This tiara came with a matching necklace and brooch, but it doesn't look like Marie wore them together. You can see the tiara in the painting below, and the matching necklace in the photograph at the bottom of the post.
I'm dying of jealousy over the kokoshnik tiara in that photo, by the way. Remind me again why we don't wear clothing like this anymore? I know, I know…it's heavy, it's expensive, it's a pain in the ass to put on…but when I look at photos like this one, I feel a twinge of sadness that I will never look this awesome. People just don't take the time to do shit right anymore, including get dressed. Marie got kokoshniks, lace, veils, and petticoats, and we get…sweatsuits with words stamped on the ass.
Marie got to wear kokoshniks, lace, veils, and petticoats, and we get…sweatsuits with words stamped on the ass.
But I digress.
Where Is This Tiara Today?
If by "today" you mean in 1925, I can help with that. You can see the tiara, necklace, and brooch in the famous 1925 photo the Bolsheviks took before they sold and/or dismantled many of the royal family's jewels. The tiara is front and center, with those enormous pearls standing tall. On the table in front of it is the necklace, with the brooch in its center. I circled them in red.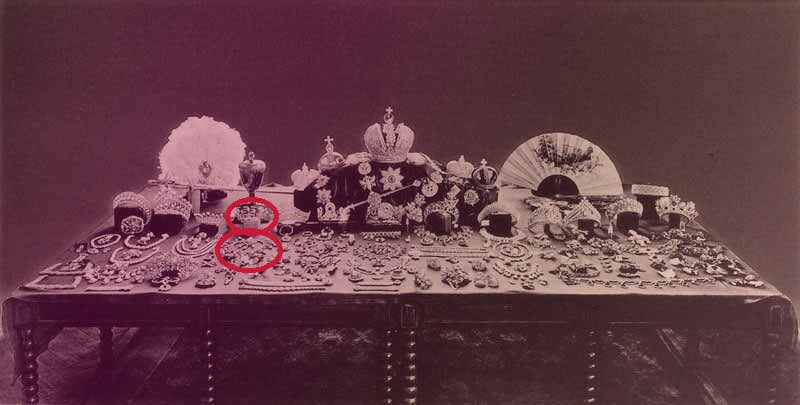 But what happened after this photo was taken? No freakin' clue. It hasn't been seen since. It might be tucked away in someone's attic. It might have been broken up. It might have been sold to a private buyer. If it's intact, no one's talking. I hate that. Can someone please start talking?
Any Other Interesting Tidbits?
I'm so glad you asked – how prescient of you! In 2012, the USGS realized they had a copy of a 1925 book that the Soviets had compiled, containing descriptions and images of all the seized crown jewels. It had been sitting in a USGS library in Virginia the whole time!
But when they looked closer, they realized their copy wasn't exactly the same. It had been made three years earlier, in 1922, while the Soviets were still deciding what the hell to do with the jewels. ("Wear them" wasn't an option? Trotsky, you saucy minx, I know you'd prance around in one of those tiaras if you had enough vodka in you. Either that, or you'd use the really pointy pieces as makeshift whoopee cushions and give Stalin the vapors.)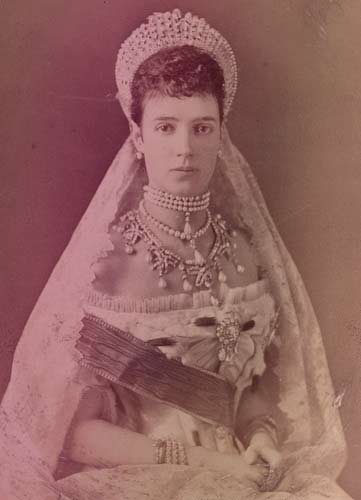 So here's the kicker. There are four pieces in the 1922 version that don't show up in 1925. This tiara isn't one of them, but I thought this was so interesting it was worth a mention.
How Would I Wear It?
I picked this tiara because it has "wave" in its name, which is what my car's back bumper looks like right now. Yes, I got rear-ended on the way to my parents' house for Thanksgiving. I'm okay, the hubby's okay, but the car…well, it's got a wave and some brand-new sharp edges, just like this tiara. Needless to say, much of my week is now going to be spent wrangling insurance, repairs, rental cars, etc. Shoot me now.
This comes on top of a notice from my mortgage provider, saying my homeowner's insurance doesn't specify my deductible, which is a violation of their underwriting conditions. Never mind that it hasn't been a problem the previous three freaking years we've been in the house, but, you know, shit happens. Fingers crossed that solving this is as easy as faxing a printout.
Anyhoo, I'd wear this tiara to confront insurance providers of varying descriptions who insist on effing up my holiday season.I'd actually consider yanking off individual pearls and offering them as bribes to anyone who can make these problems go away faster than modern bureaucracy allows.
Does wearing a tiara to the insurance company's office count as evidence that I can self-insure and tell them to get lost? Also, if I can find a tiara that hasn't been seen since 1925, I can find a way to make the other guy's insurance company pay for my rental car.
Does wearing a tiara to the insurance company's office count as evidence that I can self-insure and tell them to get lost?
That's

Marie Feodorovna's wave tiara!

Want to suggest a tiara? Drop its name or a photo link into the comments. I'll do my best to find something interesting in its history.
---
Image credits
Tiara: Russia's Treasure of Diamonds and Precious Stones, public domain via Archive.org
Marie (painting): Francois Flameng, public domain via Wikimedia Commons
Marie (photo): Image by an unknown photographer, public domain via Wikimedia Commons
Soviet jewel haul: Public domain via usgs.gov
---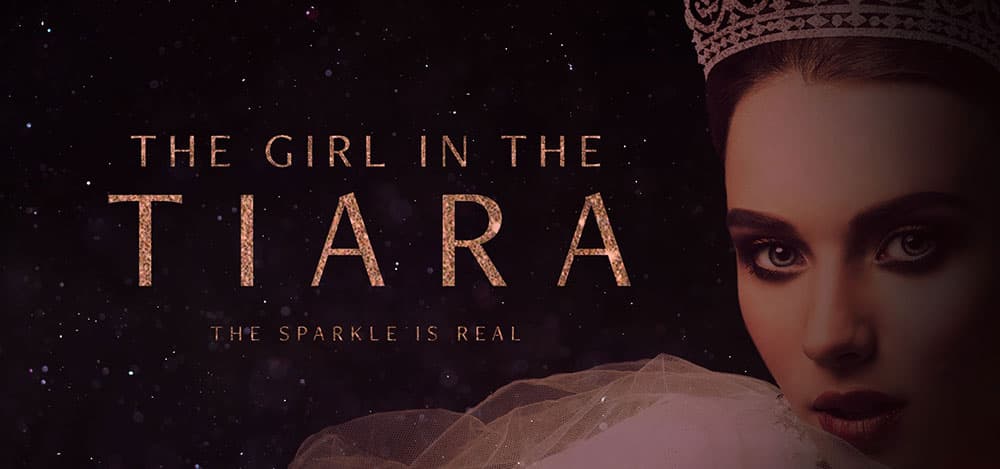 Love Royalty and Tiaras?
You might like my other site, The Girl in the Tiara. I created it to write about amazing royal women and their tiaras. It's like Drunk History meets The Crown.

Tiara Tuesday Archives
Visit the archives to read about more royal shenanigans. And by shenanigans, I mean war, revolution, betrayal, lust, murder, diamonds, and Princess Stéphanie's chafing dish.