The Mountbatten tiara belonged to Edwina, Countess Mountbatten. Made around 1910, it features borders of channel-set diamonds in platinum with scrolls and thirteen trefoils in between.
There's a similar design in Chaumet's archives, but the maker's mark on the actual tiara is said to be "unclear." It was last seen in a Cartier case, though, and Cartier did some fantastic work with kokoshnik-style tiaras like this one, so in terms of makers, your guess is as good as mine. Here's the tiara on Edwina's daughter, Lady Pamela Hicks:
Who Is This Edwina, Anyway?
Well, she sure didn't grow up poor like some of the other aristocratic ladies we've met (Nancy Astor and Nancy Leeds spring to mind).
Edwina's grandfather was Sir Ernest Cassell, a stupid-rich guy who was King Edward VII's personal banker. When Edwina's mother died, her dad remarried and sent her away to boarding school. She was NOT happy about it, so her rich-ass grandfather invited her to come live with him in London and act as his social hostess.
Since Edwina was his only granddaughter, she inherited most of his fortune when he died in 1921. Just how much fortune was it? I'm so glad you asked. It was £2 million, which in today's equivalent is £123,825,585.94. Wow. Thank goodness for that 94 pence, right?
Edwina inherited £2 million, which in today's equivalent is £123,825,585.94. Wow. Thank goodness for that 94 pence, right?
BTW, her full name was "Edwina Cynthia Annette Ashley," but she went by Edwina Ashley, which is such a fantastic name that if I were going to have kids (I'm not), Edwina Ashley would make my short list of names for girls. It also seems like the perfect brand name for a line of little girls' clothes, sort of the aristocratic British version of Lilly Pulitzer. Need a new business venture? There you go. You're welcome.
Desperate Housewives, Aristocracy Edition
In 1920, Edwina met Lord Louis Mountbatten, a naval officer who made £20,000 per year. But what he lacked in take-home pay, he more than made up for in family connections. Louis's mother was Princess Victoria of Hesse (Queen Victoria's granddaughter, and sister of Alix and Ella, the two Hessian princesses who married into Russia). Not to name drop on you all at once, but this Louis is also the one who introduced his nephew, Prince Philip Mountbatten, to Princess Elizabeth. The result? That Philip is now the grumpy old man known as Prince Philip, Duke of Edinburgh.
Here are Edwina and Louis together: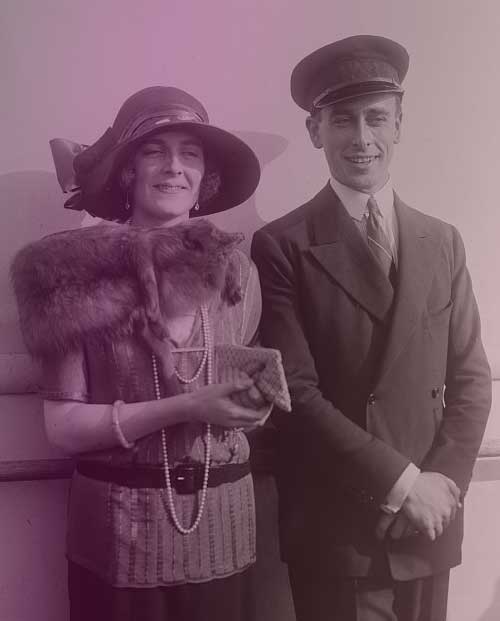 For the first two decades of her marriage, Edwina's anthem was "Girls Just Wanna Have Fun." At one point, she took such an extended sea-voyage vacation that no one knew where she was for months at a time. She was a man-magnet and a man-eater. Maybe even a woman-eater? Some reports describe her as bisexual, but quick-and-dirty research only pulls up the names of men linked with her (including an extremely scandalous affair with a black man, Leslie Hutchinson).
At one point, her housekeeper freaked out when she had to keep five gentlemen callers occupied while Edwina was out shopping: "Mr. Gray is in the drawing room, Mr. Sandford is in the library, Mr. Phillips is in the boudoir, Senor Portago in the anteroom . . . and I simply don't know what to do with Mr. Molyneux!"
"Mr. Gray is in the drawing room, Mr. Sandford is in the library, Mr. Phillips is in the boudoir, Senor Portago in the anteroom . . . and I simply don't know what to do with Mr. Molyneux!"

Edwina's housekeeper
I don't know about you, but Senor Portago sounds promising.
Her daughter, Pamela, said Edwina was lonely because Louis's naval duties kept him away from home for so long. Is that true, or is it the wishful thinking of a daughter who doesn't want to give her mother a bad name? Eventually, Louis took a lover of his own and Edwina was supposedly jealous.
This is the kind of dysfunctional marriage that could easily have fallen apart.
But what happened next made it even stronger.
War, War, What Is It Good For?
In this case, a lot. World War II changed everything for Edwina. During and after, she devoted herself to charity work. She joined the St. John Ambulance Brigade and found her life's calling. Her husband and two daughters were surprised and pleased at the change in her.
After the war, Louis was appointed the last Viceroy of India, sent to oversee India's transition from British colony to independent nation. While Vicereine of India (1947-8), she rotated between this tiara and one with pearls and diamonds because, as her daughter said, "she could not be seen twice in the same one."
But it wasn't just about the social whirl anymore.
Edwina fell hard for India, and Louis knew he could use that to his advantage. Before the partition of Pakistan, he tried to bring warring religious communities together under his wife's influence, calling it "Operation Seduction."
The gossip columns made a big deal about Edwina's friendship with Jawaharlal Nehru. A biographer who read her letters to her husband said she admitted having an affair with him, characterizing their relationship as "mostly platonic." Obviously, it was the "mostly" that piqued the biographer's attention. Edwina's daughter, Pamela, denied it. She wrote about her mother: "She found in Panditji [Nehru] the companionship and equality of spirit and intellect that she craved. Each helped overcome loneliness in the other."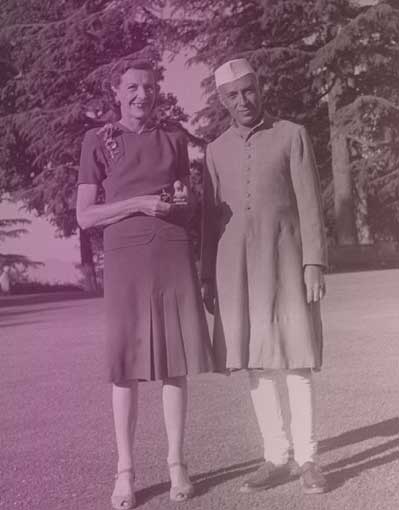 But just how influential was their relationship? Well, one Mountbatten biographer claims Edwina's affair with Nehru made Islamic leader Mohammed Ali Jinnah even more determined to force the creation of Islamic-majority Pakistan to avoid being ruled by the Hindu majority in India proper. If this is true, Edwina's affair changed the course of history. The partition became law on August 15, 1947. Two million people died in the massacres that followed.
In 1960, Edwina died of a stroke, at age 58, while inspecting a charity facility in Borneo. It was her wish to be buried at sea, so Louis's ship, the HMS Wakeful, did the honors.
He stood on deck with tears on his face, kissing a wreath before throwing it into the sea. Throughout everything, his affairs and hers, wars and crumbling empires, their marriage worked. This, I think, is the definition of something being greater than the sum of its parts.
And Then This Happened
Without Edwina, Louis continued his work for the British navy. He served as the Chief of Defence for the British Armed Forces, as well as Chairman of the NATO Military Committee. At the same time, he also became a mentor to Queen Elizabeth's son, Prince Charles. In 1974, he suggested Charles date his granddaughter, sixteen-year-old Amanda Knatchbull. Charles asked Amanda's mom how she'd feel about it, and she said it wasn't her favorite idea in the world, but she wouldn't stand in their way. Score one for Louis.
In 1979, Louis visited his summer home in Ireland and decided to take a few family members fishing for lobster and tuna. He didn't know the IRA had placed a 50-pound bomb on his boat the night before. The bomb blew off most of his legs. It killed his grandson, Nicholas, as well as a crew member. He was alive when fishermen pulled him from the water, but he died before they made it to shore. His daughter, her husband, and other son were all seriously hurt but recovered. His daughter's elderly mother-in-law died the next day from injuries sustained in the blast.
Gerry Adams of Sinn Féin said: "What the IRA did to him is what Mountbatten had been doing all his life to other people…he knew the danger involved in coming to this country."
I've mentioned this in a prior post, but it's worth repeating. As a child, Louis visited Nicholas II and his family in St. Petersburg and fell in love with the tsar's third daughter, Marie. Even after the Bolsheviks murdered the entire Romanov family, Louis kept Marie's photograph next to his bed for the rest of his life. I'm sure he never anticipated dying through violence, like she did.
After the incident, Prince Charles proposed to Louis's granddaughter, Amanda. She said no – she was traumatized by what had just happened to her family as a result of being too politically prominent.
Edwina on the Silver Screen?
Edwina's story was supposed to make it to the silver screen in 2011, with Edwina played by none other than Cate Blanchett. It never happened. The story of Edwina's affair with Nehru is still too hot to handle. The Indian government couldn't accept how prominent a role the affair played in the film and pulled all support. The movie, titled Indian Summer, was permanently shelved in 2009. It would have been directed by Joe Wright (Atonement).
What Happened to the Tiara?
When Edwina died in 1960, the tiara passed to her daughter, Lady Pamela Hicks. You might be familiar with Pamela's husband, David Hicks, the interior designer. Pamela had the same kind of glamorous social whirl of a life that her mother did – moving in the same social circles as Noel Coward, Winston Churchill, and Douglas Fairbanks, Jr.
But first-world problems reared their ugly head in the form of a dangerously low supply of liquid cash. In 2002, Pamela decided to sell this tiara at Sotheby's. "We're not pop stars, so we need the money," she said.
The tiara sold in 2002 to a buyer who was not me. The lucky winner took it home for the low, low price of £149,650.
In 2010, Lady Pamela agreed to write her memoirs. The book came out in 2012, titled Daughter of Empire: My Life as a Mountbatten (affiliate link). I put it straight on my Amazon wishlist.
How I

'

d Wear It

Look at the way these scrolls and trefoils connect. All the gaps are filled. Everything either connects to another swirl or purposefully dead-ends in a geometric design.

Since I'm a writer, I'd wear the Mountbatten tiara to plot. If you're not a writer, you could still wear this one to plot – we all have schemes, no? Or at least wear this to do some journaling. Tie up your loose ends the way Chaumet or Cartier tied theirs in this design. Create red herrings the way some of the scrolls end in a beautifully sharp but non-connecting loop.

Put this puppy on and sit down and fucking think. Think hard about what you want and how to get there. Understand that you or your characters are going to have diversions that don't necessarily take you where you want to go (erhm, grad school). That's okay. As long as they serve the artistic whole, dead-ends can work. What would have happened if Edwina felt going to India was a dead end? Maybe she did, for all we know. But instead she found her purpose. And so can we.

This, dear readers, is the tiara lover's version of a thinking cap.
That

'

s

the Mountbatten tiara!

Want to suggest a tiara? Drop its name or a photo link into the comments. I'll do my best to find something interesting in its history for a future edition of Tiara Tuesday.
---
Image credits
Edwina: Bain News Service, US Library of Congress, public domain via Wikimedia Commons
Louis and Edwina: Bain News Service, US Library of Congress, public domain via Wikimedia Commons
Edwina and Nehru: Photo Division, Ministry of Information & Broadcasting, Government of India, public domain via Wikimedia Commons
Affiliate disclosure
I'm a participant in the Amazon Services LLC Associates Program, an affiliate advertising program designed to provide a means for sites to earn advertising fees by advertising and linking to Amazon.com. As an Amazon Associate, I earn from qualifying purchases. There is one Amazon affiliate link in this post (Lady Pamela's memoirs). If you choose to buy through this link, I'll get a few extra cents for the tiara research fund.
---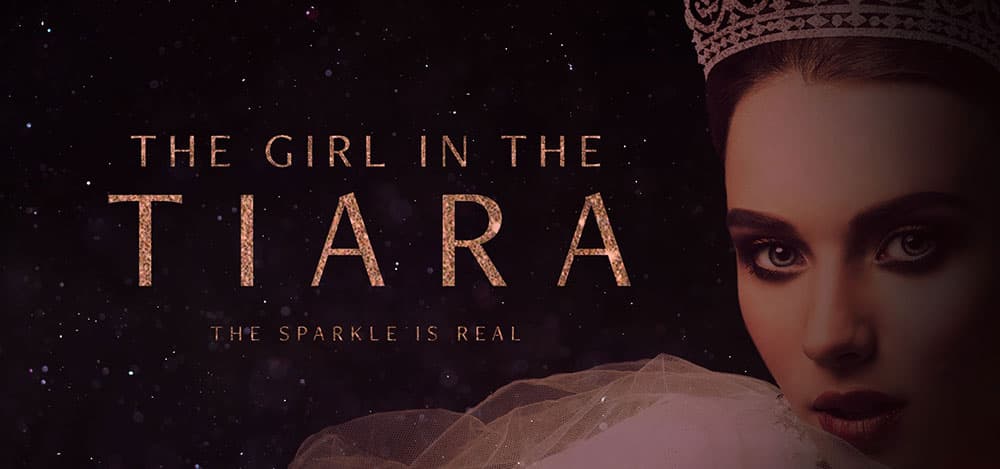 Love Royalty and Tiaras?
You might like my other site, The Girl in the Tiara. I created it to write about amazing royal women and their tiaras. It's like Drunk History meets The Crown.

Tiara Tuesday Archives
Visit the archives to read about more royal shenanigans. And by shenanigans, I mean war, revolution, betrayal, lust, murder, diamonds, and Princess Stéphanie's chafing dish.